A new tradition has risen
Jazz, football and friends: Senior sunrise had it all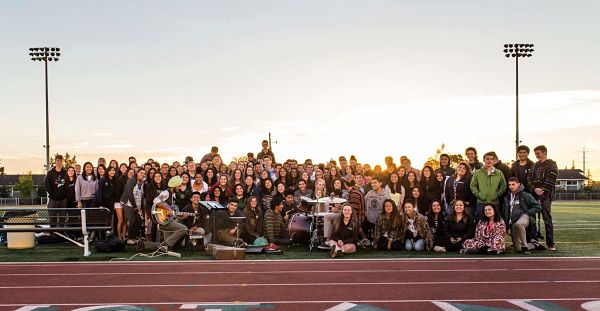 Students of the Class of 2016 had a great time Oct. 9 at the first senior sunrise at HHS. Seniors woke up at around 6 a.m. to attend the event that began at 6:30 a.m.
While students waited for the sun to rise, they participated in a variety of activities that included talking with friends, tossing footballs around, playing hacky sack, taking pictures and listening to a live jazz band.
"It was a super dope experience because we got to share jazz with our fellow students even though we had to wake up hella early," Amit Kohli, a member of the jazz band, said.
Many other schools in the Bay Area have a similar event that occurs within the first few weeks of school.
"I decided to reach out to [leadership] because I thought that a senior sunrise seemed like an idea that was a bit 'out there,' since I hadn't actually ever heard of one before that day," Juliette Le Saint said. Le Saint was the person who proposed the event to the class officers.
The senior sunrise is meant to bring the class together to kick off their final year with their high school peers according to the class of 2016.
"It was a lot of fun," senior Nick Goulet said, "because it was a non-stressful environment. I didn't think about it as being at school, it was more just hanging out with friends."
Stay tuned for the sequel to the senior sunrise, the senior sunset.