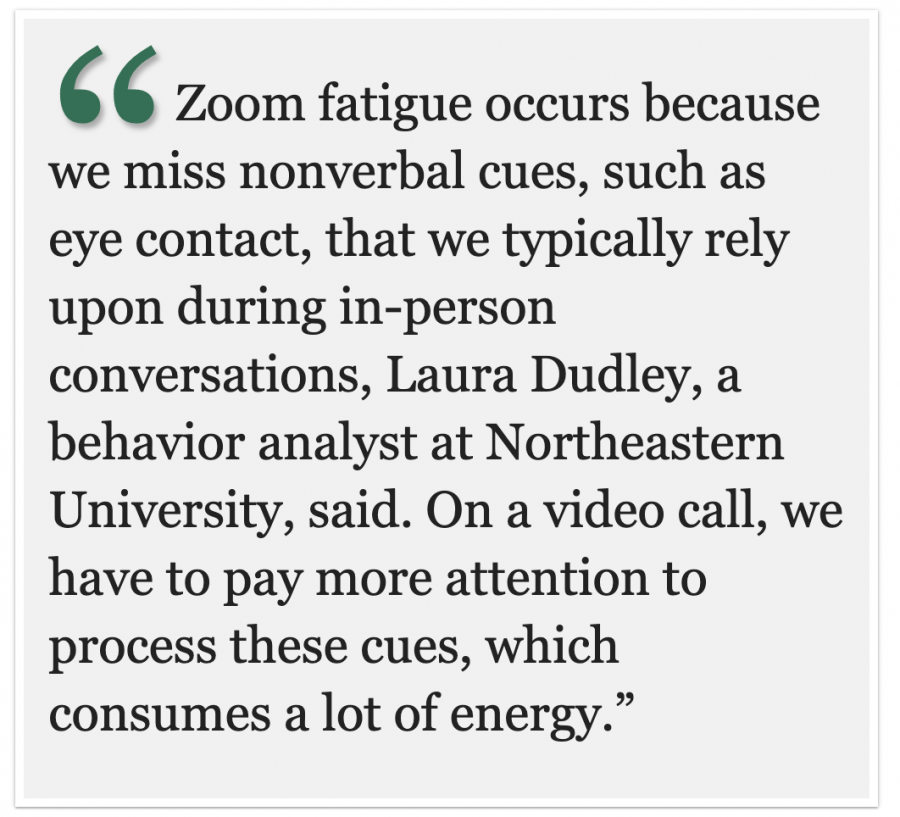 It's been 202 days and counting since schools across the nation shut down. Back then, everyone was excited to have an extra two-week vacation; unfortunately, those two weeks soon turned into over half a year. 
With this pandemic came a whole new way of learning, and with that came a whole new set of struggles. 
One thing many students are struggling with is Zoom fatigue: the abnormally great exhaustion students and instructors feel after a Zoom conference call. For me, it manifests in the form of need to nap multiple times a day. 
Zoom fatigue occurs because we miss nonverbal cues, such as eye contact, that we typically rely upon during in-person conversations, Laura Dudley, a behavior analyst at Northeastern University, said. On a video call, we have to pay more attention to process these cues, which consumes a lot of energy.
Eye contact is an important nonverbal cue that is nearly impossible to achieve over Zoom. You have to look into the webcam to provide eye contact to others, but you have to look at their eyes on your screen to receive it.  
The conditions at home also negatively affect my Zoom experience. Our wifi router is located in the living room, which is also the loudest and busiest room in the house, so I usually attend Zoom classes in my bedroom, which has unstable wifi, so sometimes, I get temporarily booted from classes. Additionally, I don't have a desk in my room, so I attend my classes on my bed and lean against the wall, so my posture isn't the greatest. 
Most importantly, at home, I'm not able to see my friends and classmates, which is an integral part of my school experience. Chatting before (or even during) class was what made school bearable for me, and without that, school feels like much more of a drag. School days become long stretches of class, work, class, nap, class, work and then bed, blurring into a never-ending cycle of bleariness. 
Although my experience with Zoom classes hasn't been the best, it is the reality we live in until in-person classes resume. Meanwhile, remember that you're not alone, and we will make it out.