Soccer through a lifetime: Katy Perry
Senior Katy Perry details on how soccer has affected her as a person, student
To some, a sport might be a simple hobby, a way to exercise or something to watch for fun. But for senior Katy Perry, co-captain of the varsity girls soccer team, soccer has always been more than a sport: it has acted as a guide throughout the obstacles of life since childhood.
 Perry said she has played soccer for a total of 14 years, playing competitive soccer for 10 years. She said she was first introduced to the sport as a child by her parents and has continued playing because of the sense of community it provided her.
"I liked soccer from the beginning," Perry said. "But what got me into it more was the amount of new people I got to meet and friends that I made on the team."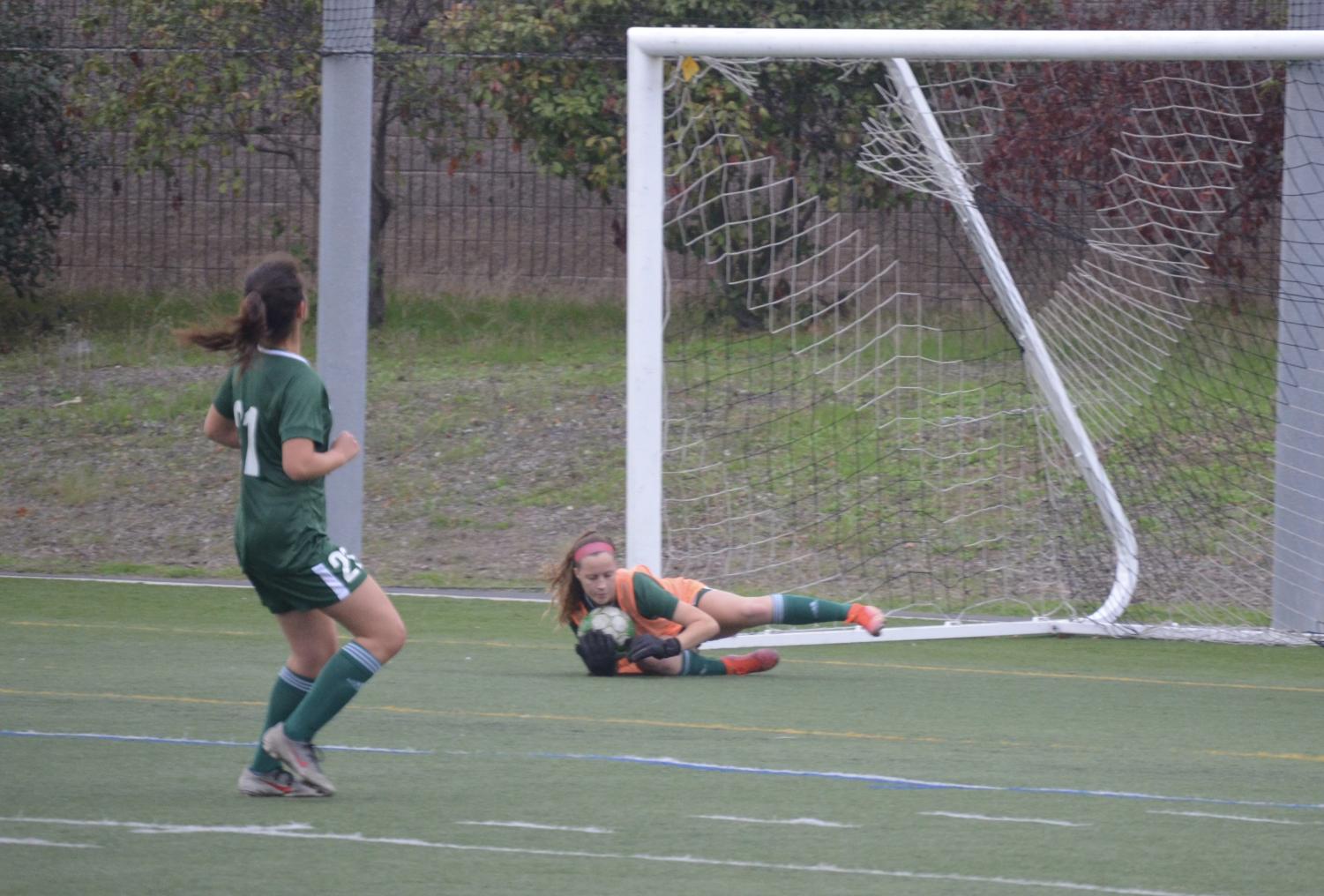 The strong, meaningful bonds Perry created through playing soccer has impacted her sense of self greatly and has helped her grow better as a person, Perry said. 
 "Soccer helped me build confidence in myself and my abilities," Perry said. "I think it's because in soccer, you can see your hard work pay off a lot more often."
Playing soccer has also taught Perry about overcoming failure and mistakes and not letting them affect your mindset, Perry said.
 "In soccer, if you get scored on or you make a bad pass, you feel bad for like a second, but it's like, 'what are you going to do about it next?'" Perry said. "I think that applies to a lot of situations in real life." 
Being a student athlete comes with many challenges, Perry said. However, through participating in soccer since her freshman year, the sport has helped her develop an important life skill: time management. 
"In the beginning of tryouts, the coaches are always like, 'this is a commitment and you have to be here at every practice and every game," Perry said. "Playing a sport is definitely something that pushes you to work harder because you have a sense of responsibility and commitment to it."
Despite the struggle of  juggling school and sports, it has contributed to Perry's work ethic, encouraging her to get work done.
"In some seasons, I'll be playing two sports," Perry said. "So after school I'll do one sport, and then another sport and then I have to go home and do my schoolwork." Perry said.
Even with the obstacles of being a student athlete, Perry said the close bonds and family formed through her sport teams make the extra work worth it.
"Everyone's in the same situation: coming from school to playing a sport and then going home and doing work," Perry said. "My favorite part is the practices where everyone is just so done with school.  It's not great for us, but those practices tend to be the most fun since we do the most bonding then."
As this upcoming soccer season marks Perry's last, she said she hopes for a successful season but also for soccer to continue being the community she has come to cherish.
"[I hope] the team will continue to be a community and be supportive to everyone," Perry said. "I think that's a huge benefit coming in as an underclassmen.  Seeing the upperclassmen that have been through the things that you're about to go through and always being there to support you."
Although Perry does not plan on playing college soccer, she hopes to continue playing intramural or club soccer in the future. 
 "I hope that soccer still has a part in my life and that I will continue to learn small life lessons from it," Perry said.