In construction: Apple Campus 2
A potential traffic nightmare for commuters in Sunnyvale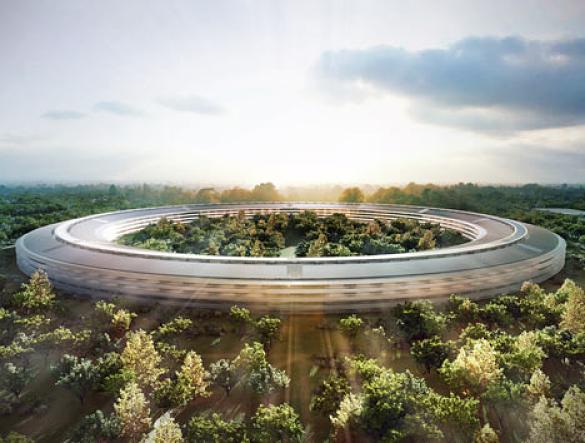 The ongoing, and seemingly unending, construction of a massive campus in downtown Cupertino has led to increased traffic in pedestrians and vehicles, contributing to the already-congested metropolitan area.
In October of 2013, Apple announced its plan to start building a second campus, one mile away from its main building built some 20 years ago, after it had received approval from the city of Cupertino.
"As an Apple-product user, I'm definitely looking forward to it. I also think that it's great for the city because it'll definitely create a ton of new jobs." sophomore Nishant Yadav said.
According to the city of Cupertino website, the completed campus will house a 2.8 million square foot office, a research and development building, several parking structures, an observation deck, cafe and countless other features The site is an enormous 175 acres and planned to house around 13,000 employees.
Today, roughly two years of construction later, massive progress has been made. Daniel Dilger said, on the Apple Insider website, that five of the nine building segments making up the mega-project have just reached their ceiling this month and videos of the current construction site can be found all over Youtube.
Due to the large scale of the project, the campus causes many regular disturbances and drastically changes the roads for commuters.
"I drive on the roads near the construction site everyday and it really sucks that now there's more traffic than ever before," junior Danny Wong said.
In an article on Cupertino Patch, Anne Ernst wrote that the neighborhoods around the new apple campus already have poor traffic flow, particularly during morning commuting hours. The addition of the campus could potentially create many new complications for motorists as well as drastically worsen traffic conditions.
"I've have had multiple run-ins with the traffic in that area, which is expected for a project of that size. To be honest, I think that once the campus is finished, the only traffic will be from people gawking at the spaceship-like building while driving by" junior Liam Bunka said.
According to the Cupertino city website, restrictions will occur between the hours of 9 and 4:30 pm on weekdays. Commuters can also expect additional traffic as these restrictions include major lane reductions and several sidewalk closures.
As of now, Apple has set the tentative date for the finished project to be near the end of 2016.