School spirit unleashed at first rally
The gym was packed with people as the first rally of the school year took place
As the first rally of the school year took place, students filed into the decorated gym – some walked in with their Aloha or green and white gear, while others wore colorful leis and face paint.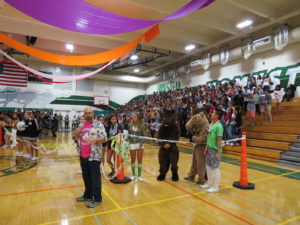 "I thought [the rally] was brilliant," junior John Jolly said. "The rally was really well placed, everyone was doing their part, the spirit of the classes were amazing and the whole atmosphere was spectacular."
The rally featured performances from the marching band, the dance team, the cheer team and administrators.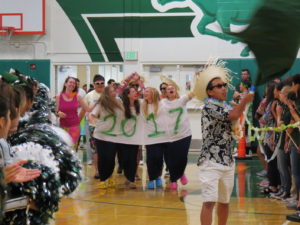 "I really love how the dancers were really showing off their skills and they were really performing with a lot of spirit," Jolly said.
After the freshmen, sophomores and juniors were settled in the bleachers, the rally officially began with the traditional senior walk-in. Seniors dressed up with their friends and walked across the gym to their place in the bleachers.
Behind the scenes, the leadership team worked to bring the rally to life.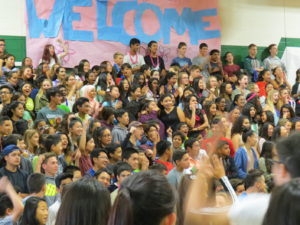 "We started planning during the summer," rally commissioner and senior Tej Gokhale said. "We wrote the script, did the minutes, contacted coaches, all before school started, and then [we] ordered bagels and did all the decorations during school."
There were several practice sessions leading up to the day, rally commissioner and junior Lanie Schwartz said.
"We had run throughs usually the day before and the morning of the rally," Schwartz said.
The next rally is for Homecoming and will be on Friday, October 14th.