Arrival exceeds high expectations
Denis Villeneuve's newest sci-fi film is intelligent, slow, and shocking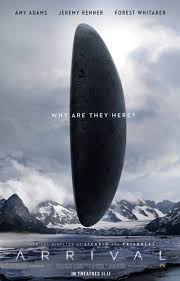 I
n 2013, we were treated to "Gravity", an exciting and masterfully crafted science fiction thriller. 2014 gave us "Interstellar", an ambitious, though flawed, space epic. Then, "The Martian", a surprisingly humorous space survival film, surprised audiences in 2015.
2016 is Denis Villeneuve's year with his new sci-fi film, "Arrival".
I have always been a big fan of Denis Villeneuve. I have seen many of his movies, from "Incendies" to his more recent "Sicario". All of them are fantastic. "Arrival" has been one of my most anticipated movies of 2016, and it delivers.
"Arrival" is about a linguist, Dr. Louise Banks (Amy Adams), along with an elite team of scientists, attempting to decipher the newly arrived aliens' foreign language so they can communicate. 12 alien ships have landed in locations around the world, forcing world leaders to work together for the first time in a long time.
"Arrival" is not your typical science fiction film. Rather, it is more fitting to describe it as a character-driven novel with aliens in the background. The film moves at an extremely slow pace, and it takes its time examining the movie's characters. However, the movie never gets boring.
It is safe to say a large portion of the film revolves around Amy Adams' performance as Banks. She delivers not just a good performance, but a great one, capturing every emotion in her character and more. Jeremy Renner is great in the movie as well as a physicist, but he does awkwardly deliver several extremely cheesy lines. Trust me – you will know when you hear them.
I won't spoil anything, but close to the end of the movie, a shocking blow is masterfully delivered. It is not a twist ending, but a realization, a discovery, a breakthrough. Once you begin to realize what happened, and once you start piecing everything together, your mouth will be on the floor. After I left the theater, I thought about the ending for days afterward. And, on top of that, the entire movie is also filled to the brim with emotion, mystery and drama.
The movie also has beautiful cinematography and a chilling soundtrack, composed by Jóhann Jóhannsson. Villeneuve has directed his movie to technical perfection.
"Arrival" is a very smart, very science-y movie that is definitely is not for everyone.
If you are into action-packed Marvel cinematic blockbusters, I don't recommend you see this movie as it will feel slow. There is definitely a lot of hard science and character exploration, and there is very little, if any, action.
However, if you enjoy thrilling, intelligent movies, and if you are willing to become invested in Villeneuve's characters, if you are willing to sit through the masterfully crafted slow pace, I cannot recommend this movie more.
Through "Arrival," among many of his previous masterpieces, Denis Villeneuve has demonstrated himself to be one of the best directors in recent times. I completely trust that he will make yet another fantastic movie with his take on "Blade Runner" in 2017.
"Arrival"
Release date: November 11
Rating: PG-13
Runtime: 1h 58m
Director: Denis Villeneuve
Genre: Sci-fi/Mystery/Drama
Rating – 5/5 stars