Sheeran's "Divide" is best work yet
New album is purposeful, well-written, stunning
Ed Sheeran's hit single "Shape of You " is currently Number One on the Billboard Hot 100 Songs and has held a spot for the past eight weeks. His third full-length studio album "Divide," which includes "Shape of You," was released Fri., March 3.
To put it simply: this album is incredible. Sheeran flawlessly blends emotional ballads and upbeat anthems to create his best work to date.
Sheeran is often known for his raw, emotional songwriting and this album does not disappoint. "Happier" is a heart-wrenching ballad that captures the intense emotions of a person watching their ex falling in love with someone new. The track focuses on Sheeran's voice over instrumentals, which adds to its pure emotion, leaving listeners empathetic and appreciative.
Contrastly, "Perfect" is a passionate serenade so beautifully crafted that I predict it will play at many weddings in the years to come. The tenderness of Sheeran's lyrics and voice add to the atmosphere of love this song crafts.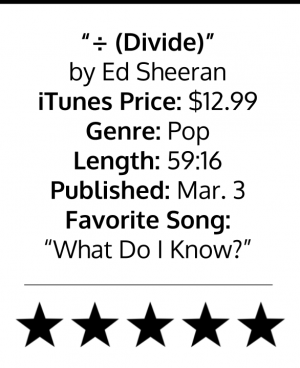 Rounding out my top three slower tracks on the album is "Supermarket Flowers." This melancholy song is Sheeran describing the death of a mother. A significant part of how I assess the success of an album is its ability to evoke emotion from a listener. This song made me cry and I was emotional far after the last note, which is why I consider this track one of the best on the album.
The album is also populated by upbeat anthems, such as the two previously released singles, "Shape of You" and "Castle on the Hill." While both songs are commendable, neither stood out as highlights to me.
Instead, my favorite fast-paced song handily beat out the others. The optimistic "What Do I Know?" stole the spotlight in my opinion and I found myself skipping other tracks, just to listen to this one on repeat. It has clever, inspiring lyrics and catchy instrumentals that mix to create a perfect balance.
Another highlight song of the album that is worth a listen is "Dive," which I found catchy, emotional and unique.
Sheeran's ability to blend modern musical tones and unique, relatable lyrics is what makes this album stand out. "Divide" is the singer/songwriter's best album of his career because of its emotional depth, outstanding instrumentals and voice performances, and the varying style of songs. I highly recommend listening to this album as soon as possible.
The album can be purchased on iTunes for $12.99 or listened to on Spotify.