Denae Nurnberg describes her path to HHS
Assistant Principal details her experiences in life
Assistant Principal Denae Nurnberg was born in the Santa Clara Valley and grew up going to schools in the Campbell Union School District.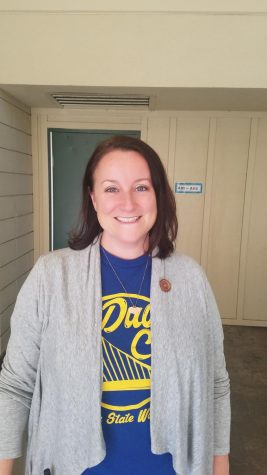 "There was a lot of open land when I was growing up, orchards," Nurnberg said. "The tree next to [State Route 85] was where I used to hang out all the time."
Growing up, Nurnberg said she always wanted to be an astronaut.
"It seemed really cool, but when Challenger incident happened, I was kind of scared, so I changed my goals," Nurnberg said, referring to the space shuttle explosion in 1986.
After graduating high school in the Bay Area, Nurnberg said she went to UC Davis for a joint degree in biology and psychology. Then, she went to San Jose State University and University of San Francisco for her master's and doctorate in education, respectively.
Although Nurnberg said she felt like she does not get enough time to interact with students, she really likes the environment at HHS.
"I think the families here are all amazing. No matter what background they are from, most of them support their children in the education amazingly well," Nurnberg said. "And the staff here is wonderful too. I'm really lucky."
When she first transferred to HHS from MVHS, Nurnberg said she was somewhat intimidated.
"At [MVHS], I was really focused on student activities, but when I came here, I was primarily to focus on student discipline," Nurnberg said. "Since I also focused on student discipline before coming to [FUHSD], I knew how pivotal discipline could be in students' lives depending on the way we handle situations."
Other than work at HHS, Nurnberg said she spends the majority of her free time along with her family.
"I have a five-year-old, a three-year-old and a one-year-old," Nurnberg said. "But before I had kids, I really liked playing field hockey. And because I was completing my doctorate, I also had schoolwork to do for the past six years."
In one word, Nurnberg said she would describe herself as passionate.
"I love the work I do and I care deeply about it," Nurnberg said. "I care a lot about [HHS], and I usually get here around six in the morning and leave around 6:45 p.m. I'm really proud to work here."