SNHS club members reach out to hospitalized children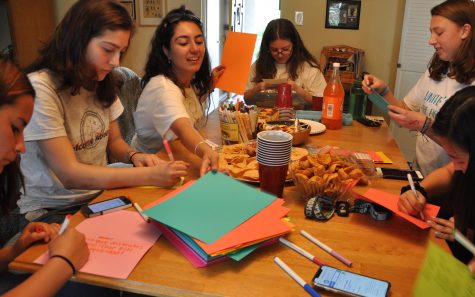 Spanish Club / Spanish National Honor Society members came together last Saturday to make cards in Spanish for children in children's hospital. Spanish Club president, senior Ali Farinas said they make and send the cards in hopes of making the days better for the children on the receiving end.
"We work with an organization called Cards for Hospitalized Kids, and we send the cards there and they distribute them in hospitals," Farinas said. "We just want to help kids and make their day a little bit better."
Activities director Alex Pavel said club members write the cards in Spanish for different seasons and holidays, and it brightens their day, especially if they receive them around Christmas time.
"They might not know any English, so writing them in Spanish will make it feel like they belong somewhere, like people care about them," Pavel said.
Senior club member Michelle Fung said this event is different because they get to make cards for kids in a hospital and writing it in their language not only helps members practice Spanish, but also helps the children feel better.
"I think it's really cool because I don't speak Spanish at home but getting to experience more of the culture through the club is really fun," Fung said.
Senior Hannah Moslemy said she has participated in a card-making event before and thought it was a great way to show kids in hospitals that people care about them.
"I think that it's something really special to them because it is in their native language so I think it would be a lot more meaningful to them," Moslemy said.
Secretary, junior Sophia Palmerin said she enjoys being able to reach out and give the hospitalized children support.
"I actually really like the fact that we're in a way communicating with people that aren't really advantaged with support," Palmerin said. "The fact that they get cards to give them support, just feeling better, that just satisfies me."