'Isle of Dogs' is an endearing and well-made film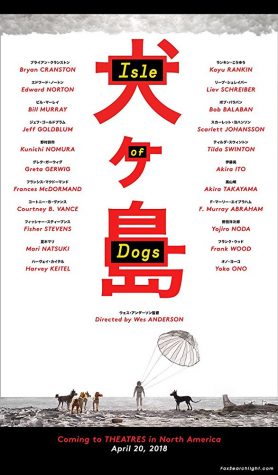 Director Wes Anderson's most recent movie, "Isle of Dogs," is a success similar to his previous films, which include "Fantastic Mr. Fox" and "Moonrise Kingdom."
The plot of the movie is set in the future, where a rampant "canine flu" in Japan forces all dogs of the nation to be quarantined on an island. A young boy named Atari ventures to this place in hopes of finding his beloved pet, Spots. As he searches for his furry friend and evades authorities, he's assisted by five other anthropomorphic dogs: Chief, Rex, Boss, Duke and King.
"Isle of Dogs" carries the distinctive style that all of Anderson's past films have: meticulously symmetrical compositions, distinct color palettes and an awesome soundtrack. As usual, it's made with extreme technical proficiency, featuring creative and frequently stunning animation.
The dry and darkly humorous dialogue regularly seen in Anderson's work is also featured. However, I found "Isle of Dogs" to be considerably funnier than his other films.
Maybe this is because of the story's focus on dogs or just the talent of the actors themselves, but the innocently awkward conversations and endearingly naive nature of characters made the film far more comedic and pleasant to watch.  
I will admit that Anderson's films can be a bit jarring at times. His casual and apathetic handling of dreary subjects can be easily misinterpreted as insensitive, rather than an attempt at humor. "Isle of Dogs" focuses on subjects that are less dark than those featured in Anderson's previous films, such as death, suicide and parental neglect. It is a much more light-hearted and pleasant film.
As funny and beautifully animated as "Isle of Dogs" is, it does have some flaws. The main one being is that the storyline is unpredictable, and not always in a good way. Subplots become more crucial than expected, plot twists have surprisingly little impact and impractical solutions are used to solve serious problems.
It's not a movie to see if you're really focused on the plot. This sounds a bit strange, as most movies are watched for their story, specifically. But Anderson's films are intentionally made to be more than that; instead having numerous little details that eventually make a wonderful final product.
So if you enjoy lovable characters, amusingly eccentric dialogue and exquisite visuals, then this is definitely a movie for you.