Author speaks about "Love Letters to the Dead"
Ava Dellaira presents on her inspiration and process in her young adult novel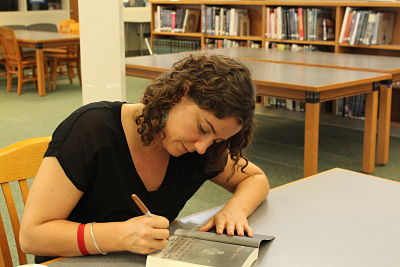 Ava Dellaira stands in the library, leaning on a podium in front of projection screen. "Dear Kurt Cobain," she reads from her novel, "Love Letters to the Dead." The audience is entranced. When she finishes the chapter, the crowd bursts into applause. She smiles, thanking them.
Like her protagonist Laurel, Dellaira grew up in New Mexico, but she now lives in Los Angeles.
"It's the book I've been saving my entire life for," she said.
"
I think there's something really hopeful about writing a letter, whether or not someone can get back to you."
— Ava Dellaira
Before writing "Love Letters," Dellaira contributed to the screenplay for "The Perks of Being a Wallflower" film. Her ideas for the screenplay led Stephen Chbosky, the author of "Perks," to suggest she write her own book.
She said the experience also helped her learn how to edit her own writing. "Maybe I put a month into writing this paragraph," Dellaira said, "but ultimately it didn't fit into the narrative."
Dellaira said she used letters because they allow for connections. With the letters, she said, you can see the phases of relationships.
"I think there's something really hopeful about writing a letter, whether or not someone can get back to you," Dellaira said.
The movie rights for "Love Letters" have recently been picked up by Fox. Dellaira said she was lucky to also get to write the screenplay for the film, but there are clear differences from writing the book.
"It's you alone writing it," she said.
However, with the screenplay, she gets notes from Fox, the producer, and the director. Although nobody said she must do something, she said that each person has their own interpretation of the book and how the film should go.
At the end of the presentation, Dellaira also gave advice to aspiring writers. She said the best way is to write as much as possible. It might take 50 pages to get that one good sentence, she said, but you have to keep writing. If you have writer's block, read until you can write again.
She says she encourages everyone to write because it can be a very therapeutic experience. Writing "Love Letters" helped her get through her own mother's passing.
"Writing can be helpful for all of us who have been through hard things," said Dellaira.