National bike to school day promotes healthy, safe transit
C
elebrations for National Bike to School Day swept the nation's schools on May 8. As the name implies, the national day prompts people to get to school by bike over other forms of transportation.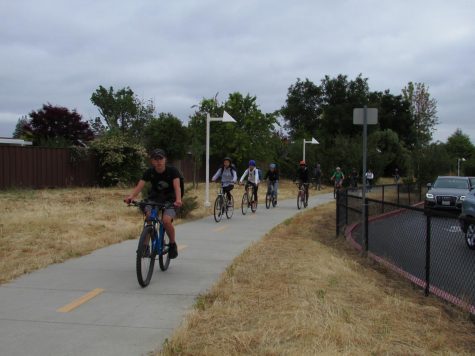 At Homestead, much of the event was organized by the school's Safe Routes to School team, a parent, teacher, and student group dedicated to improving the commute to school by helping to ease the flow of traffic, as well as improving the safety of those commuting to school.
Senior Leigh Bauer, a member of the school's Safe Routes to School Team, sees National Bike to School Day as an opportunity for students to get an extra amount of activity in their lives.
 "[National Bike to School Day] gives kids exercise, it gives them a chance to go outside, it encourages them to have a healthier lifestyle," Bauer said.
Bauer said she joined the Safe Routes to School team after becoming frustrated with issues involving traffic at school.
"I noticed at the beginning of the year how much traffic there was in the student parking lot and how it was really hard to get in and out," Bauer said. "So I went to Mr. Puccinelli and, when I met with him, he was like, 'Do you want to be a student representative for parking lot safety and parking lot traffic?' and I was like, 'Sure.'"
Safe Routes to School played an integral part in organizing events for the school's celebration of National Bike to School Day. One of these events, a bike raffle, will reward 12 students who bike to school with bikes decorated by students and is hoped to encourage participation in the event, said Bauer.
Senior Brendan Koo was in charge of organizing the event to spray paint designs on the bikes for the raffle. Koo said his involvement with the bike raffle was a result with prior contributions to art events at school.
"I already had connections with PTSA and they knew of my artistic leaning background," Koo said. "So they reached out to me and they said, 'Hey, we have an event coming up for the National Bike to School Day and it is spray painting bicycles, would you be interested in spearheading this event?' So I was like, 'Definitely.'"
The bikes do not have the same design, since students at the decorating event were given the option to choose their own looks for the bikes.
"I invited a bunch of volunteers," Koo said, "they were part of the art club or they were in the AP environmental science classroom … I gave each person a bike and a can of spray paint and said, 'Just go to town.'"  
Apart from giving students and extra incentive to bike to school,the bikes will play a part in spreading students' art around the community, said Koo.
"Nowadays," Koo said, "everything is so technical and to the point, and there is not really much room for creativity to flourish … So, having this way for art to be showcased … is just a really great way to show the art in the community."
Apart from the bike raffle, the other main event at National Bike to School Day was the bike stampede. Dean of students, Steven Puccinelli, observed much of the preparations for National Bike to School Day, including the bike stampede which was hoped to be another incentive for students to participate in the event, along with the bike raffle.
"The bike stampede is the name we use just because we are the Mustangs." Puccinelli said, "Everybody who rides their bike, we have volunteers out there giving out candy and a chance to win gift cards to local businesses just for riding a bike, just as a way of saying, 'Thank you.'"
Puccinelli also emphasized National Bike to School Day as not just a student event and said anyone at school could join in on the celebration.
"We also have a staff stampede where staff members come out to ride their bikes," Puccinelli said. "We currently have 10 people commited."
Although National Bike to School Day is a fun event to participate in, the event should have an additional importance to participants, Puccinelli said.
"We want to see more people riding their bikes," Puccinelli said, "to help reduce traffic and be better for the environment, and just better for their health."