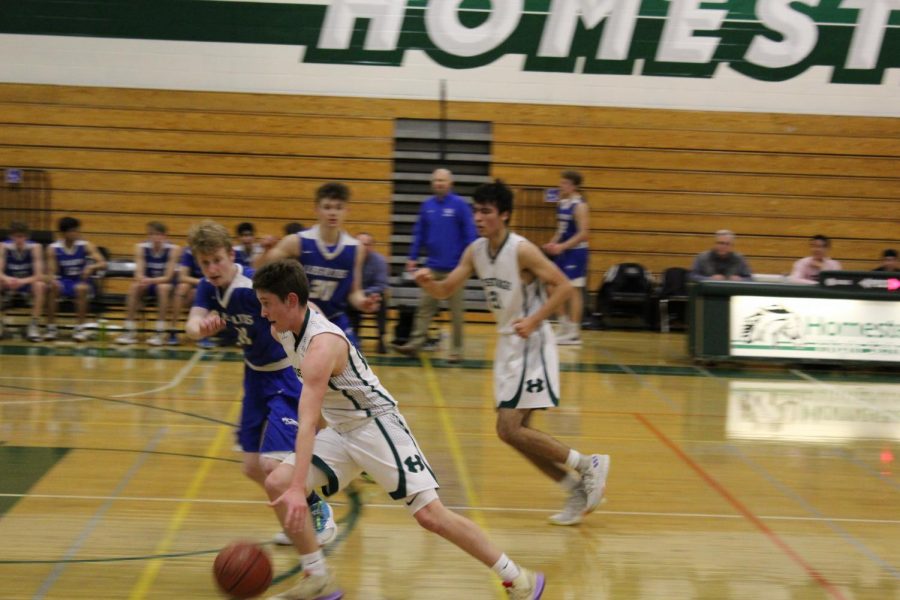 Dexter Tatsukawa
Boys varsity basketball was defeated in their match against the Los Altos Eagles with a final score of 56-34 on Jan. 29.
Los Altos is a tough team to beat, with a current record of 17-2, according to Max Preps. However, HHS went in determined to win.
"[Los Altos has] size. They're really athletic, but we were pretty confident in terms of the last game when we played them; we got them really well for three out of the four quarters," basketball coach Matt Wright said. "Unfortunately, we had a rash of injuries. We had two dozen turnovers, [which is] just unacceptable [because] you're never going to win a game if you turn the ball over more than 24 times."
Other members said they agree that the game's outcome could have been prevented. 
"The game didn't turn out as well as we hoped for because we couldn't limit our turnovers," senior David Aronson said. "[With] a good team like Los Altos, we can't have mental lapses that would give them an advantage."
Junior Omri Remez said he felt the team's mentality played a factor in the difficulty the team faced in their match.
"I felt pretty confident [going into the last game]," Remez said. "[Los Altos is a] good team but I feel like we didn't want the ball enough. We came into the game with the wrong attitude even though we're a great team."
Despite the undesired results, Remez said he has high hopes for the team in the future.
"I feel like we have a lot of key components in our team and we're striving to execute them," he said, "but I feel like we just need to take that extra step."
Regardless of the setbacks in the first half of the season, Wright said he is looking to the future with optimism.
"We went into a little slide like this last year because of injuries as well," Wright said, "but we were still able to make a nice run to CCS all the way to the quarter finals."