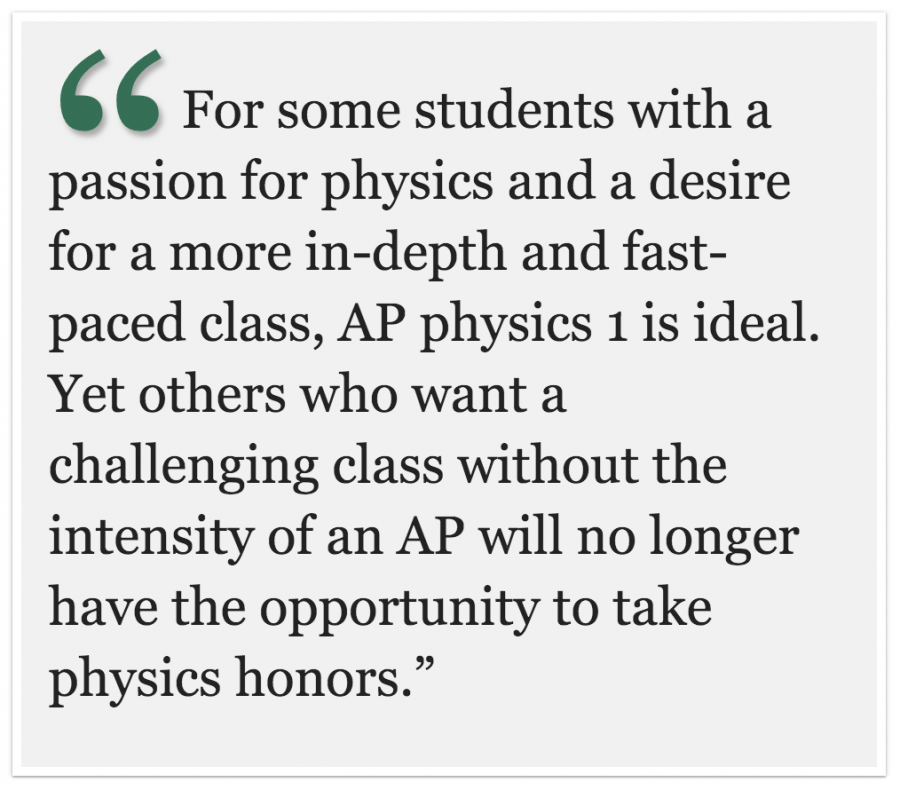 Homework. Exams. Scores. Work is piling up for many advanced placement (AP) courses on campus, and here comes yet another one. Starting next school year, physics honors will be removed from HHS curriculum and be replaced by AP physics 1: algebra-based. 
AP classes are advanced placement courses, meaning they go beyond the regular high school curriculum and resemble a first-year college course. The idea is that students who are passionate about a certain subject can learn more about it in high school. 
For some, this is a great opportunity, and others, not so much. For some students with a passion for physics and a desire for a more in-depth and fast-paced class, AP physics 1 is ideal. Yet others who want a challenging class without the intensity of an AP will no longer have the opportunity to take physics honors. 
The main differences between AP physics 1 and physics honors are the added units, such as rotation and the removal of a few topics from the honors curriculum.  
AP physics 1 is an unnecessary change. Because of this, students who are interested in learning more about physics have no choice but to choose between AP physics 1 or college prep physics. Having physics honors in the curriculum is a way for students to explore physics more in-depth, while not encountering the pressures of an AP class. As such, it caters to a broader range of students. For some, neither class would be the best fit. 
Previously, if a student found physics honors to be too difficult, they were able to move down to college prep physics. However, students who choose to take AP physics 1 will not be given the choice to drop down to college prep physics if they are struggling. Physics teacher Daniel Nunez said students cannot drop an AP class and choose to pick up another non-AP class once they enroll in the course. Struggling students will be forced to choose between not taking a science class or potentially failing AP physics 1.  
One argument in favor of AP physics 1 is that it is a great opportunity to take an AP science class earlier in high school. But the question remains: are younger students ready to take on an AP class?
According to College Board, 52 percent of students who chose to take the AP physics 1 exam last year did not pass. Compared to the overall AP passing rate of 60 percent, AP physics 1 has a lower passing rate. Taking this class would require additional time and effort from students compared to the time and effort needed to do well in other AP classes. 
AP physics 1 is one of the few AP classes available to sophomores. However, in sophomore year, students are still adjusting to the workload of high school and maintaining their grades. Adding more stress, work and pressure will not help these students succeed.
Students who are passionate about and eager to learn more about physics will benefit from an AP course. But many who are still exploring their interests will be stuck in a class that might not be the best for them.