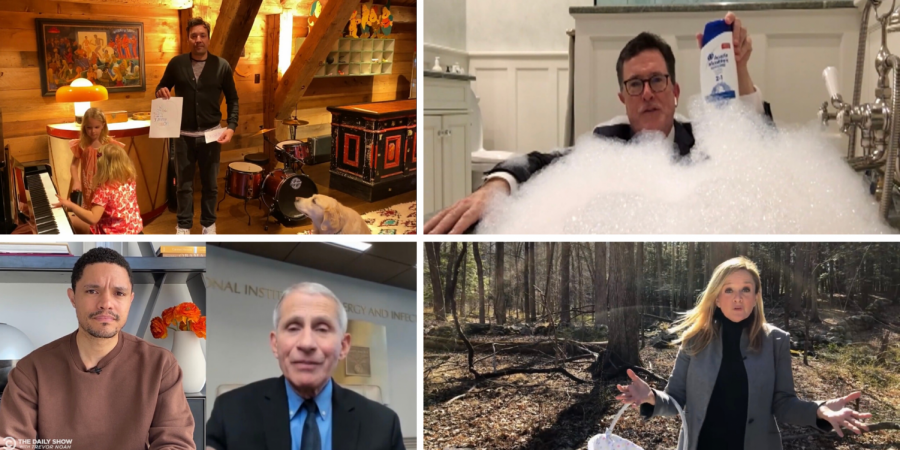 Photo collage by Melody Chen | Photos courtesy (clockwise from top left) by NBC, CBS, TBS, Comedy Central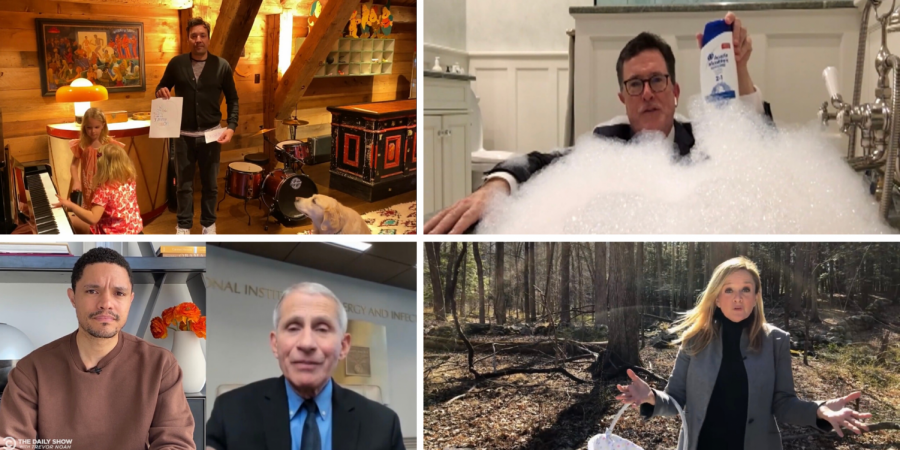 A heavily bubbled bathtub in a 4-star bathroom commences the scene as we hear a tooting rendition of The Late Show theme song in the backdrop. A few seconds in, The Late Show host Stephen Colbert emerges in a suit and a tie behind a massive bubble tower — kicking off his second monologue at his home following the suspension of his show due to concerns surrounding the coronavirus pandemic.
"Hey, everybody! Hi! Welcome to my bathroom," he said. "You're watching a very special social distancing edition of 'The Late Show.' Or as I now call it, 'The Lather Show with Scrubbin' Colbert.' My first guest tonight, as you can see, is Mr. Bubble, followed by a musical performance by the legendary duo Head & Shoulders."
Who knew 2020 would bring our beloved late night hosts to the YouTube stands? Gone are the beaming lights, roars of laughter from the audience stands and well-coordinated field segments. Instead, we see raw footage of our favorite hosts making due with their voice and what they have around the house.
The traditional couch talk between the host and guest is now being converted to the convenience of video conference calls. The video camera operator may just as easily be the host's spouse or shelf. Audience reactions are now documented in YouTube comments. 
Yet, in light of the forced hiatus, the refurbished late-night talk shows have remained rather charming.
"We're in a weird space," The Daily Show host Trevor Noah said on  his show. "It feels like the end of the world, and it's not, but we also cannot treat it like nothing is happening. So we do have to find that balance."
In fact, that balance of informing and cracking jokes makes show hosts more than essential during this time. With hundreds of millions of people sheltered in their homes, a demand for information as well as lightheartedness has been answered in the best possible ways.
Last month, Noah drew 11 million views over an interview with Dr. Anthony Fauci, the director of the National Institute of Allergy and Infectious Diseases, whose candid assessments of the virus have often been downplayed by President Donald Trump. Mainly free of comedic zingers, Noah breaks down questions about the virus itself, as well as the tug-of-war relationship between the state and federal government.
The purpose was to establish not only facts, but a candid conversation with an expert and a representative of the nation's burning questions. While a face-to-face conversation at the host desk may be more desirable in the traditional sense, what we need during this crisis is not an elaborate talk show set but the underlying facts — and comedy — itself.
In addition, there's some sort of unfiltered rawness in all of the latest home shows. For example, Full Frontal host Samantha Bee spent hours attending a shrieking hawk in the middle of her monologue. NBC Tonight Show host Jimmy Fallon delivered a monologue with his two daughters working as a makeshift "The Roots" band. Her daughters later left their post midway and slid down their indoor slide, leaving Fallon at a loss.
It is rather reassuring to watch them try to, at least, reconfigure their own lives and make the best out of the current situation. Just like all of us, the pandemic has dramatically shifted our day-to-day lives, so it is important to acknowledge the facts and find a way to adapt to the changes.
For a long while, we will not be seeing the elaborately-crafted transitions or the endearing nature of couch convos. But after all of this passes in the near future, we will never forget the unique directions each comedian has taken to push for humor and truth in light of the darkness.