Mustangs cross country secures historic win at SCVAL league finals
Both boys and girls varsity teams win first place and qualify for CCS
November 8, 2015
For the first time in 37 years, the cross-country boys and girls varsity teams won both varsity titles at the SCVAL league finals, cross country coach Kenrick Sealy said in an email.
The race was held in Crystal Springs in Belmont on Nov. 3. Both teams won the 2.95-mile race and qualified to compete in the Central Coast Section (CCS) Championships.
The boys team ran a school record time of 1:19:21, Sealy said.
The team accumulated a total of 37 points, in which each runner's place represents the amount of points the runner earned for the team. The lower the point value, the better the placing.
The boy's varsity team outpaced second-place schools Los Gatos and Lynbrook, which each totaled 70 points, according to PrepCalTrack.
Senior runners Christopher Reed and Daniel Graves led the varsity boys, placing third and fifth respectively. Reed ran a personal record time of 15:33, Sealy said, while Graves ran a time of 15:35. Reed's personal record moved him up to second place on the HHS all-time list for his time at Crystal Springs, and Graves took third place on the list.
"I had a feeling that we were going to win … I was really proud of the whole team," Reed said. "Especially after losing runners like Cooper Sloan and Brandon Sutton … it was really exciting to win."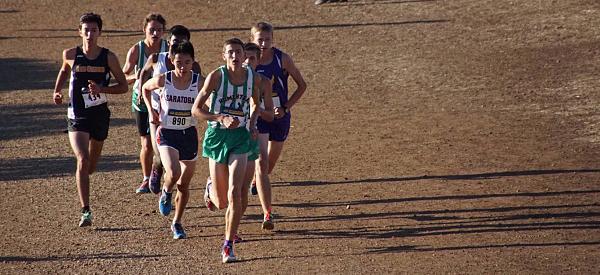 In addition to varsity, the boys frosh/soph team won first place as well. The team was led by freshman Ryan Ma, who ran an exceptional race. Ma not only qualified for CCS with a first place finish in the frosh/soph race, running a time of 16:34, according to PrepCalTrack, but also set a freshman HHS record, Sealy said.
The girls varsity team also had a historic outing, finishing with 39 points according to PrepCalTrack. They outpaced the second-place team, Monta Vista, by 17 points.
Sophomore runner Elena Kamas set a new school record of 17:47, winning the individual title for the girls varsity race.
"[I mostly felt] relief," Kamas said. "The whole race you could hear steps and breathing, so it was just kinda stressful the whole time."
Junior Lindsay Allen and freshman Katie Williams also ran spectacular races, placing third and fifth place respectively, according to PrepCalTrack.
Of the five team races HHS competed in, the Mustangs won four first place team titles and one second place award, Sealy said.
The cross country varsity teams will both compete at CCS Championships, according to the HHS athletics website, on Nov. 14, at Toro Park in Salinas.