The new (inter)face of Programming Club
Programming Club elects its first female president, senior Amrita Venkatraman
October 26, 2015
HHS has had several tech icons pass through its halls, including Apple founders Steve Jobs and Steve Wozniak. Senior Amrita Venkatraman is similarly contributing her computing influence to the school by becoming the first female Programming Club president since its creation in 2011.
Venkatraman was introduced to programming as a freshman when she took the Computer Programming JAVA class, followed by AP Computer Science the next year. Venkatraman said she initially felt intimidated by the course, seeing as many people in the class were already familiar with programming.
"People always say Java isn't a super hard class," Venkatraman said. "It's like when you learn a different language, you have to wire your mindset a different way. And so that's one challenge that I've found difficult."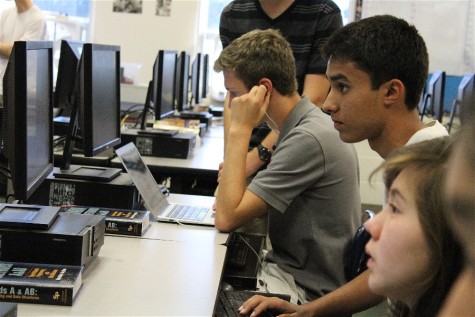 The club's advisor, computer science teacher John Shelby, said that in his years in the programming field, he has noticed a scarcity in female coders. In a college lecture hall of hundreds of students, Shelby said there would only be around 10 to 20 women.
"In high school, in a super-techy area, you know, Silicon Valley – it's still pretty male dominated," Shelby said. "In my programming classes we usually have about a third girls. I'd love for it to be more, and it's something that I've struggled with, too."
In order to bring more girls into the programming field, Venkatraman said the club has made an effort to approach female students during Round-Up and assure them that the focus of the club is creating programs and making projects work, rather than just boys coding in a room.
Programming Club has also altered its weekly workshops to be more interesting, Venkatraman said.
"Recently we went on a tour for Yelp. I think that was one of the most rewarding experiences. Everyone had a great time, the Yelp tour went very smoothly, the panelists at Yelp were very helpful," Venkatraman said. "I felt like the club learned a lot … to me that was a very rewarding experience."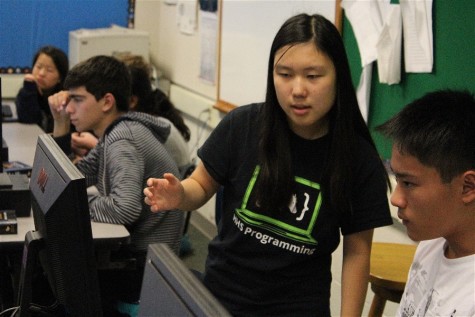 Sophomore Akhil Sanka said he was surprised by the friendly environment Programming Club had when he joined this year. Venkatraman was friendly, outgoing and encouraged his coding interest, he said.
"She's really good," Sanka said. "I think she knows what she's talking about."  
Senior Rie Ohta said Venkatraman is a strong president, due to her ability to create connections with people and work hard towards bringing the club to a higher standard. Ohta also said Venkatraman's energetic personality has improved the dynamics of the club.
"Having a female leader I feel like will encourage more girls to go to meetings," Ohta said. "It's just like, 'If a girl can be president of Programming Club, then I can do programming too.' I feel like it gives off that vibe."
Although Venkatraman initially felt intimidated by how male-dominated the programming field is, she said she now appreciates its goal-oriented nature. She also said she hopes her presence in the club will encourage more girls to become involved with coding.
"I'm not saying that every girl's gotta join Programming Club," Venkatraman said, "but I hope that with me as president and with [Dong] as Vice President, more girls will see programming as a field that they feel comfortable with."
After high school, Venkatraman said she aims to go to college, then travel to countries such as Brazil and Argentina to improve foreign education through technology.
"I want to do a lot of traveling to make sure that schools in countries are able to get the technological advancements that they need," Venkatraman said. "I love the innovation of technology in education."