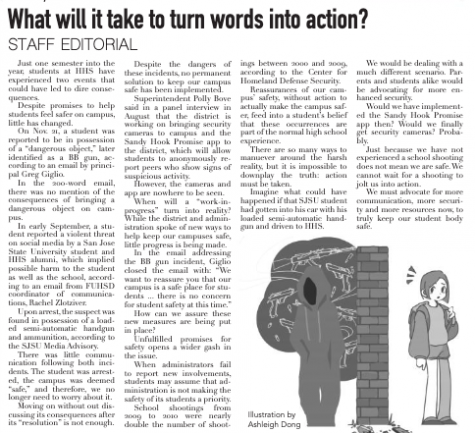 January 24, 2020
Dear Epitaph, I wanted to clarify and correct some of the comments made in your Staff Editorial from the December 11 edition titled "What Will It Take To Turn Your Words Into Action" (page 4).  Your column made it sound as if nothing has happened to increase or improve safety, but in reality, here are some of the things that have been done and are b...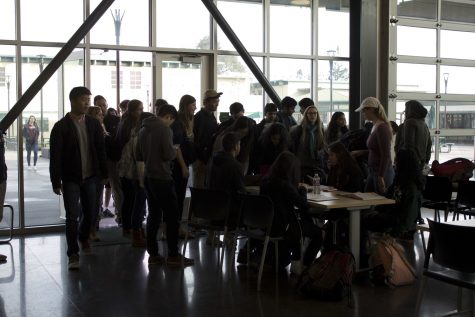 By The Editorial Board

February 2, 2017
Before every executive meeting, club presidents scramble to finish club binder summaries and reschedule tutorials to show up for another meeting that regurgitates the same information of all meetings preceding it. The ASB Handbook states clubs have many responsibilities, including maintaining a well ...
By The Editorial Board

January 3, 2016
"It's just like tying your shoe," School Resource Officer Tom Bond said, "the more you practice ['Run, Hide, Defend' drills], the more comfortable you become." The problem is that students don't have enough practice. If an active shooter attacked our campus at any time during the school...
ISSUE 4 IS OUT NOW!
Get your own copy of Issue 4 in C102!

The Homestead Epitaph is a five decade old institution of the student press. We are a student run publication without administrative prior review, and have fought for free speech in the supreme court. The Epitaph has won numerous Gold and Silver Crown awards, and the Scholastic Press Freedom Award. The Epitaph welcomes all letters to the editor but reserves the right to edit all submissions. Letters should be limited to 300 words. Please send any articles to homestead.epitaph
@gmail
.com or drop them off in C105. Include contact information. Make sure to follow us on Instagram at hhsepitaph.
The Epitaph
1 week ago
STAFF EDITORIAL: If administration is concerned about the game itself, then it is reasonable to issue a warning, but when an activity such as this is occurring off campus, in no way should the school regulate the game, force its closure or forbid its revival.
STAFF EDITORIAL: Schools should not overstep their jurisdiction
It all started as a game. Created by two seniors, each player in "Homestead Assassin" is randomly assigned a target, a student they are meant to "assassinate" with a nerf gun or water balloon before the established deadline. After the target is eliminated, they move on to the next round — ...