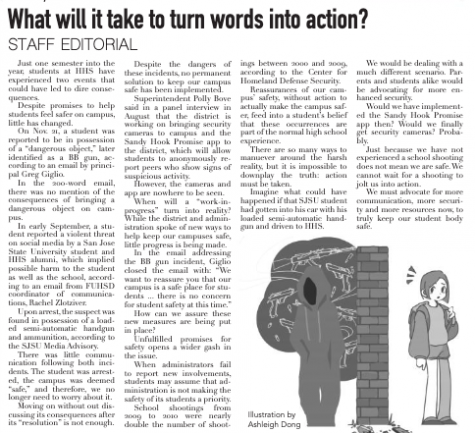 January 24, 2020
Dear Epitaph, I wanted to clarify and correct some of the comments made in your Staff Editorial from the December 11 edition titled "What Will It Take To Turn Your Words Into Action" (page 4).  Your column made it sound as if nothing has happened to increase or improve safety, but in reality, here are some of the things that have been done and are b...
By Anonymous Parent in the Community 

December 2, 2019
This is a response to the article entitled "Mob rule prevails as Aaron Persky is Fired:  Former Judge Ousted from his coaching position at LHS" published on 9/25/19. I would respectfully encourage the student and any others reading this Epitaph article to read the 2019 book entitled "Know My Name" ...