"Incomplete but we are IN COMPLETE"
Seventeen holds online concert during pandemic
The red light shines as the word "incomplete" appears on the screen. The three leaders of each unit in Seventeen, Vocal, Hip-Hop and Performance, appear as the song "Intro. New World" starts. A K-pop boy group, Seventeen held an online concert, "Incomplete," on Jan. 23, which premiered in 122 different countries. 
The concert started with a short compilation of small unit stages, which are a small group within Seventeen with two to seven members, featuring songs such as, "BRING IT," "MY I" and "Flower,"  then transitioned into their popular releases, "Fear," "Fearless," "Fallin' Flower," "THANKS," "Lie Again" and "Kidult."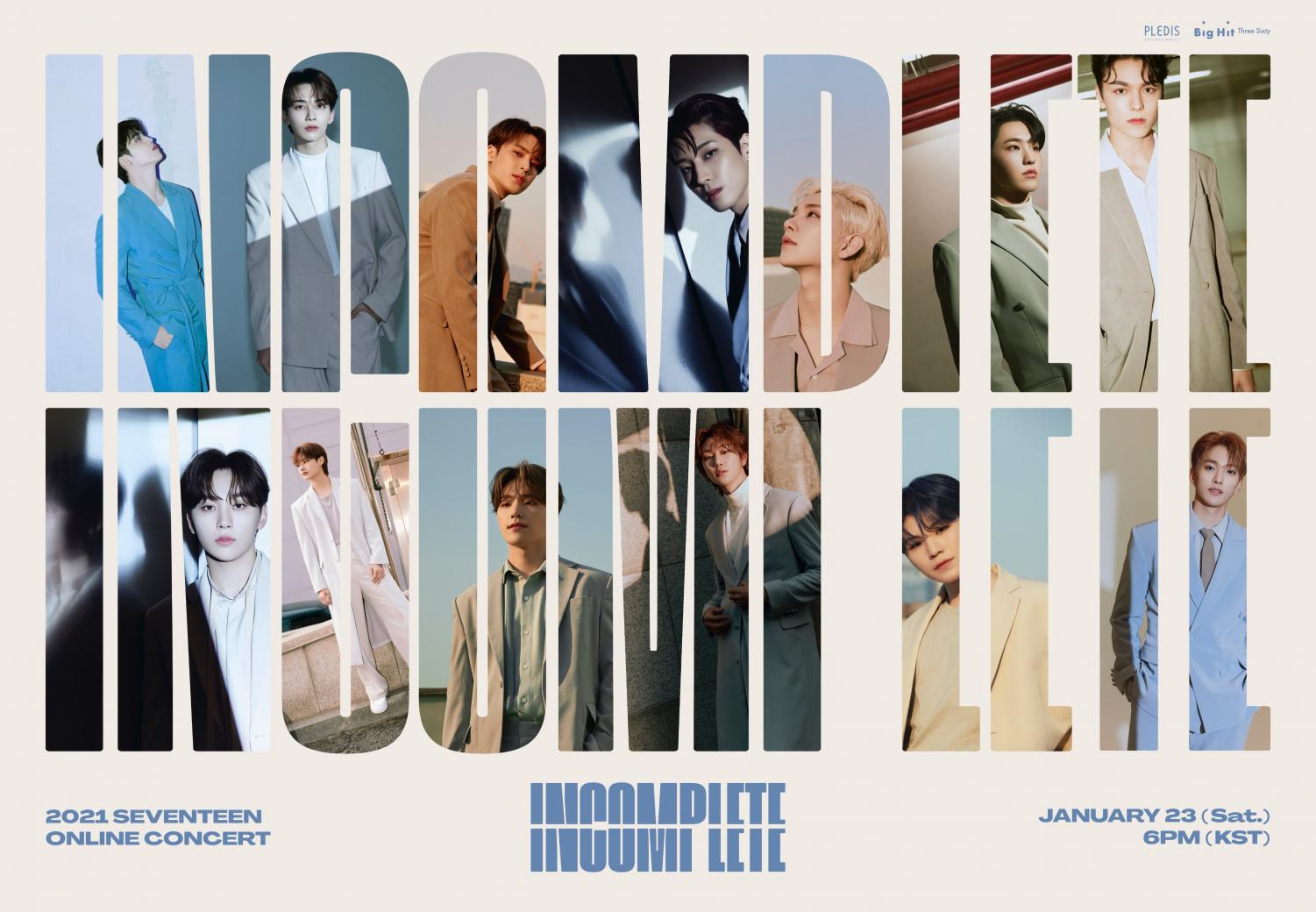 These stages had beautiful matching outfits as well as aesthetically pleasing stage sets. 
One thing that stood out was the transitions between each stage and the remixes of each song. Seventeen is a group who always tries to showcase something different for their fans every performance, and looking at their newly reformed stages left me in a state of awe. 
Afterward, they moved on to playing their position unit stages (Vocal, Hip-Hop and Performance), "Back it up," "Habit" and "MOONWALKER," as well as their age unit stages, "AH! LOVE," "Light a Flame," "HEY BUDDY" and "Do Re Mi." 
This showcased new remixes of their older songs as well as stages they showed to the public for the first time. During these stages, the members were able to showcase their talents to the audience. 
I enjoyed this because earlier in the show there was not much time for individual members to shine, due to the large size of the group with 13 members. 
After the unit stages, Seventeen performed more of their group music and remixes and then moved on to the encore stages, an extended stage after their planned performances. 
Usually during an encore stage in K-pop concerts, the artists wear comfortable clothing while singing and interacting with the fans rather than performing a stage with choreography. During the encore, Seventeen was presented with a recording of their fans, Carats, singing their song, "Us, Again." 
I started to tear up while watching the Seventeen members tear up while listening to "Us, Again." After the song, the members went around giving speeches about how they were able to grow up through their experiences with the pandemic and promised to present the fans with improved stages in 2021. 
The concert ended with Seventeen singing "All My Love," "My My," "Campfire" and "Healing," which helped me relax and forget about all the worries I had with my schoolwork. 
Through the concert, Seventeen once again proved to the public that they are a group with strong vocals and performances. 
Although they were not able to perform their use of encore stages such as "Very Nice" due to curfew, the concert gave me happiness for three hours, allowing me to recharge and motivate me to work harder after the concert.
There are pros and cons to hosting a virtual concert like Seventeen. Having an online concert allows the fans to watch their favorite artists perform even under the circumstances we are in. This also allows fans from all over the world to watch the concert live.
Hosting an online concert also allows fans to buy one ticket and share it with their friends and families, spreading the music to others. It also allows fans to comfortably sit in their homes with a couple of snacks, use the restroom, and go on calls if necessary. 
Finally, online concerts allow groups to use it as an opportunity to present unique stages. For example, Seventeen performed their unit stages with sets such as houses, playgrounds and a jazz bar, which would be hard to move on and off if it was an in-person performance. 
However, there are some disadvantages, the biggest of those being that fans and artists cannot meet face to face. Going to a concert in person is more entertaining for both fans and the artists, especially since artists get the energy to perform from their fans cheering them on. 
Although the online concert allows more people to watch the concert in their comfort zone, it takes out the whole beauty of cheering on the artists I like with other fans and getting to see the artists live. And artists are not complete without their fans because they give them the energy to perform at a concert and bring them happiness. 
But under the condition we are under, knowing that their fans will be cheering them on at their homes, they are able to pull through the concert and present spectacular stages to the fans. As Seventeen said, "Incomplete, but we are IN COMPLETE."