Friending your parent
Students share their views on parents having social media accounts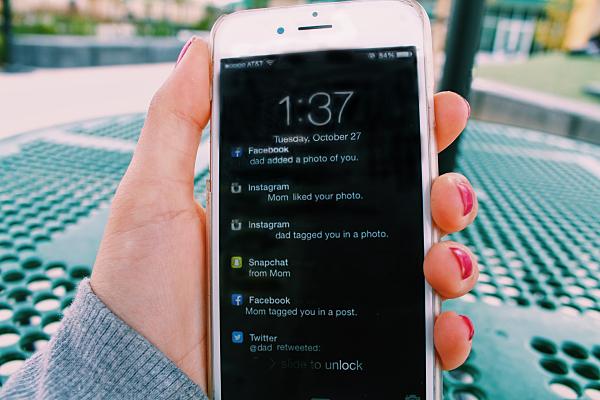 The phone on the table buzzes. You flip it over to see the notification on the glowing lock screen that reads:  "Mom tagged you in a photo." The initial reaction? Just over 22 percent of surveyed Homestead students rush to untag themselves.
Junior Allison Auten, daughter of HHS math teacher, Gary Auten, said in an email she thinks it would be strange if her parents followed her on social media.
"It's a different side of me, the online presence side of me … that they don't really know," Auten said. "I would probably feel pressured to edit more. I don't think it's necessary for parents to follow their children at this time when we're in high school because they should just have a conversation with their child and know what they're up to, although I know that's not always the case."
Just under 25 percent of students surveyed shared Auten's view that a parent having a relationship with their child on social media is unnecessary.
Sophomore Isabella Rosado has a different perspective on the topic.
"I understand why parents follow their kids on social media," Rosado said. "To me, it's like a standard of what I should post and what I shouldn't. It reminds me that whatever I post is going to be out for the entire world to see and I want people to have a good perception of who I am."
Over 75 percent of students surveyed said they agree with Rosado and are fine with their parents having social media accounts, and are not bothered by the monitoring.
One hundred thirty-seven of the 226 students surveyed said they are friends with or follow at least one of their parents on social media. Of these students, over 22 percent said their parents ended up embarrassing them with their posts and comments.
However, parent activity on apps and websites is not as big of a standout issue as it once was. With over 40 million photos shared everyday on Instagram, a parent posting one embarrassing picture is no longer seen as a huge tragedy.