Going bald for prom
Leadership hosts fundraiser to subsidize prom bid prices
Mega-mind. Professor X. Caillou. The Rock. Avatar Aang. Principal Greg Giglio. While currently only one of these famed bald men currently roams the HHS halls, at least two others will join him Monday of next week.
Four senior class officers and technology commissioner Yash Satyavarpu are taking part in "Shave-ing Up for Prom," a fundraiser meant to lower prom bid prices, contribute to the senior gift and help fund the junior class budget, president and participant Edward Li said. $1111.84 has already been raised as of Thursday, Li said.
The event will last the duration of the week, with participants sitting with their jars to collect donations on the quad stage during brunches and lunches. One officer with shave his head for every $500 raised, Li said.
As of Thursday Treasurer Andrew Mou has the most money in his jar at $310.00, following the donation of a $250 check Monday. All other participants said they wanted to see Mou shave his head the most, and he said he has mentally prepared himself.


"When [the check was donated] I had a moment of silence for myself and my hair," Mou said.
Satyavarpu is in second place at $254.10. Vice president Michael Huang is closely following with $245.02, following a $100 donation from math teacher John Shelby on Tuesday. While Huang said he is nervous about potentially shaving his head, he said the officers are determined to keep ticket prices low after costly junior prom bids last year.
"You have to think about other people's perspectives, people who are less fortunate than you. They're struggling just to meet the price of these prom tickets," Huang said.
Li, who thought of the fundraiser after a conversation with English teacher Lisa Clausnitzer, said he hopes the full $2,500 is raised and all officers have to shave their heads. He is in fourth with $213.87.
"There's been a decrease in school spirit in general and I wanted to do this crazy fundraiser to bring back that school spirit. I want to get all classes involved in it," Li said.
While all the participants mentioned lowering the price of prom bids to make prom more inclusive as a compelling reason to be involved, most still had reservations.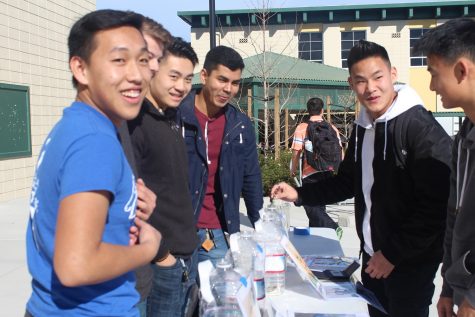 "[When the fundraiser was first announced] I double-checked there were no senior class girl officers. Then  I asked if I really need to shave my head if we raise enough money," secretary Tate Besser said, who is far behind in donations with $88.85.
Satyavarpu said he joined the class officers to maximize donations after a senior class officer dropped out.
"With only four people, the ceiling for money goes from $2500 to $2000, so if I went in then there was that potential to increase the amount of money," Satyavarpu said.
Photos of the officers can be found by their jugs, next to photos of the characters they think would resemble bald based upon facebook comments, Li said. Li is 'Mega-mind,' Besser 'Professor X,' Huang 'Caillou,' Satyavarpu 'The Rock,' and Mou 'Avatar Aang.'
As a bald figurehead for the school, Giglio offered advice to the officer or officers who will have their heads shaved next Monday.
"Shave it down close with an electric razor first, use plenty of shaving cream, use a new razor maybe even two, and don't press too hard. Then use plenty of sunscreen, even in the winter. Trust me on that one," Giglio said.