Bebe Rexha's new EP leaves you wanting more
Hoping that "It's All Your Fault: Part 1" is the first of many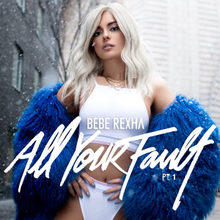 With the weather getting warmer and senioritis kicking in, I have been itching for my favorite badass female artists to release an album with some on-repeat-all-summer quality tracks.
I didn't get a full album – yet — but I got a six-song EP, "It's All Your Fault: Part 1" by Bebe Rexha, that has me dancing for 19 minutes straight as if I've already made it to graduation.
After years of writing hits for other artists and teasing with singles and collaborations,  Rexha finally released a complete body of music as an established artist that is all her own.
Although each track features the increasingly-popular artificial sounds used in pop music, Rexha's signature vocals and genius writing style make the EP stand out as an authentic and unique piece of work.
On top of being the perfect summer night opener, "It's All Your Fault: Pt. 1" doubles as a breakup and come back EP. All six tracks are about the complications of relationships turned sour, which may not actually be all that complicated, and broken trust between both lovers and friends.
The first three tracks, "Atmosphere," "I Got You," and "Small Doses" are focused around romantic relationships, whether about confusion, loyalty or accepting that some things just aren't meant to be.
Just before the album becomes a confusing mess of hormones and emotions, Rexha breaks the haze and gives listeners what they have been waiting for since 2015: another classic track with G-Eazy. The duo became an instant favorite after G-Eazy's "Me, Myself, and I" and did not fail to deliver the same perfection with "F.F.F."
"F.F.F." is the song you play on full blast after getting screwed over by a friend or lover, if you're just plain sick of all the fakeness that comes with high school — or if you're just really appreciating the realness of your own squad.
"Gateway Drug" is a slightly slower track, with a bitter but wistful tone to a former lover, summed up perfectly during its first verse with Rexha singing, "If you wanna talk, let's talk about the way you left me/Left me with a text so cold/Even though I'd die to see you/I don't trust myself to meet you."
The all-too-soon final track, "Bad Bitch," changes the tone of the EP from "why me" to "try me." Featuring Ty Dolla $ign, this track will be every girl's summer jam. It gets you in the mood to really party, and then the EP ends and you cry because you were so ready. And when you're done, you start back at the beginning, repeating the emotional roller coaster of betrayals and reconciliation and heartbreak until Part 2 comes out later this year (please God may that be in time for summer).