Red Cross Club works with recent fire victims
HHS community comes together to raise over $2,000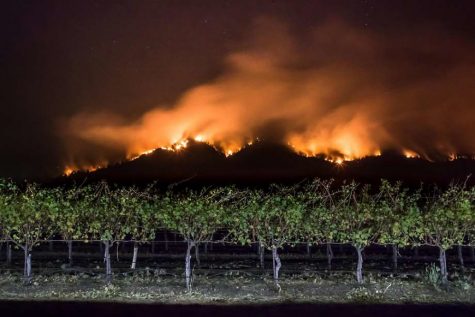 A little over two hours away, the wine country fires destroyed thousands of acres of land between Oct. 8 and Oct. 29. The largest fire in Napa County affected 110,720 acres.
Overnight, HHS already began to feel the impact of the fires. Ash-filled air and gloomy skies loomed over the campus. As air quality continued to worsen, sports practices and games had to be canceled.
Students were also affected personally by the fires. Many family members and friends of students who lived in the affected areas had to be evacuated from their homes. HHS Red Cross took the initiative to help families of nearly 8,500 individuals whose homes were destroyed.
Red Cross Club President Reet Mishra reported that the fundraiser held in October had been a huge success.
"As of right now, along with our school events, we are extremely delighted and thankful for the people that have stepped in our community as in total, we have raised $2,236.37," Reet said.
$186.37 of that total came from the school coin drive for communities impacted by hurricanes, $1050 through the general community for hurricanes and $1000 through the community for fires.
To educate students about disaster prevention, HHS Red Cross has organized a guest speaker from the Red Cross Silicon Valley Chapter to give a Community Disaster Education training in November. In this training, anyone interested may learn about disaster prevention and preparedness so they will be able to individually respond to disasters.
To spread further awareness on fire prevention and safety, HHS Red Cross has created a committee that will distribute flyers about fire safety measures to doorsteps.
Additionally, if students on campus wish to become involved and learn more about safety and fire prevention, students may attend the Red Cross Club's bi-monthly meetings every other Tuesday in C210, where they discuss current events and safety information not only for fires but for other disasters as well. The next meeting will take place on Nov. 21.
"We never know what can happen, but the best way to be safe is to always be prepared. We advise that families keep an emergency kit at home and the supplies can be found on our website: homesteadredx.wixsite.com/redcross," Reet said.