Kim's night to remember
Basketball team dedicate games in honor of deceased student
The girl's varsity basketball team hosted "Kim Night" in memory of the honorable Kimberly Nuestro on Friday, Jan. 12, 2018.
A small table was set up in the student center with Kim's basketball jersey, flowers and pictures of her. Blue and gold paper streamers decorated the entranceway of the gym.
The bleachers were full of students and staff members sporting Warriors apparel in support of Nuestro's favorite basketball team. Her entire family also attended the event, seated in the front of the bleachers.
The event started with a brief introduction followed by a moment of silence led by an English teacher Steve Lavelle.
Nuestro's teammates stood in a straight line, hand in hand and in silence, in honor of her time at HHS.
Nuestro's basketball coach, Becky Chiu organized the event, alongside with several administration members and the girl's varsity basketball team. Together they created t-shirts that followed the Warriors color scheme and said Play for Kimberly. In addition, the girl's varsity basketball team commissioned patches on their jerseys with Nuestro's initials monogrammed on the front.
Junior Yun Chuah, another close friend of Nuestro's shared her feelings after the moment of silence held for Nuestro.
"The moment of silence brought back a lot of emotions that I had when she first left us.  Sometimes I find it hard to really accept that she's gone and moments like these make it real. In that moment it made me miss her so much but in some weird way the night made me feel closer to her as well," Chuah said.
Chiu said she was initially worried about the turnout, but she was overall happy with the event.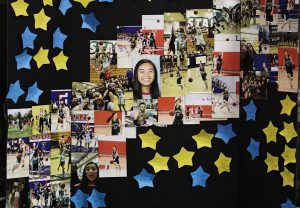 "That moment of silence was just so beautiful and heartwarming. I'm really glad that the staff was on board for this," Chiu said.
Chiu said she is not certain whether this event will continue in future years.
"[Kim Night] was already a given," Chiu said. "From the moment that she passed, we knew that we had to do something to honor her. I'm not so sure if this is something that will continue on, but it's definitely a possibility. At the end of the day, it's up to her family and whatever they feel comfortable with."
One of Nuestro's friends, junior Trinity Gao, explained the meaning behind the Warriors apparel.
"Basketball has always been such a huge part of Kim's life and she was simply a huge fan of the Warriors team," Gao said. "After everyone wore the Warriors gear the week that she passed and Steph Curry signed her shoes, it became symbolic."