How John Burn ignited his career
Band teacher describes his path to where he is now
As both a graduate of and teacher at HHS, John Burn has always been involved in music, Burn said.
"I graduated from Homestead and then I went to De Anza [College] for two years," Burn said. "I just tried to play my trumpet as much as I could."
By taking advantage of every opportunity, Burn cemented his career and college experience. He filled his free time practicing and finding new techniques to improve his skills as a musician, Burn said.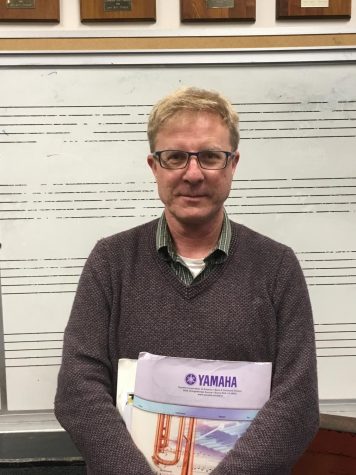 "When I went to college, I studied music education," Burn said. "I wanted to teach music sometime in the future."
Following his passion, Burn put in the work to excel at his career. Originally, he went into band because he wanted to present amazing music and bring out the best out of student musicians, he said.
"Music education is a really time-consuming major," Burn said. "I had more classes than most of my friends who weren't music majors."
After graduating from UCLA, Burn said he went to work as a band director at Santa Cruz High School with relative ease.
"If you become [a teacher], you are going to have a 90 percent chance of getting a job," Burn said. "We are in a teacher shortage and it will remain that way for a long time."
Burn said the transition from teaching at Santa Cruz High School to HHS was not as easy as he anticipated.
"There were still a lot of teachers that were my teachers," Burn said.
Burn said coming back to the high school he graduated from took time to adjust to, but eventually managed to calibrate into the system.
"I just felt strange being Mr. Burn instead of just John," he said. "Of course that [has] changed over time."
Over the years as an educator, Burn said he learned new teaching philosophies.
"I'm a teacher first and a musician second," Burn said. "I use music to teach kids, to help kids have amazing experiences that are going to give them skills and memories that will help them succeed in life."