FNHS shows appreciation for teachers
Club members arrive early in the morning to serve crepes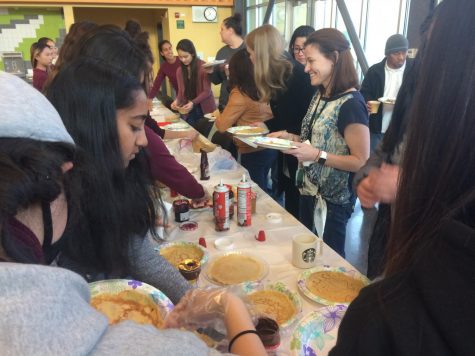 FNHS officers and members arrived to school early on Jan. 29 for the Teacher Appreciation Crepe Breakfast to serve crepes and show their appreciation for teachers.
Co-presidents Timothy Kim and Noa Khen said that the event was about appreciating teachers as well as promoting French culture.
"It's like we're introducing the French culture as well to the teachers at the school, so it's almost like we're raising awareness both for the club and for the teachers at the same time," Kim said.
Khen said that the French club has many crepe socials and they decided to incorporate it into an event.
"After school, the members of the club make crepes for themselves and they really like it," Khen said. "So if we could combine that with volunteering and appreciating our teachers, that's what this event is."
The Teacher Appreciation Crepe Breakfast is one of the club's largest events where club members and club officers put together crepes for teachers to enjoy. FNHS Activities Director Divya Ramamoorthy said that her favorite event that FNHS organizes is the teacher appreciation event.
"All of the teachers really love it, and the event really captures the aspect of FNHS that helps better the Homestead community," Ramamoorthy said.
Junior club member Thanh Luong said that she attended this event last year and decided to do it again because of the response from teachers that received crepes.
"Everyone kept on saying thank you to us and they seemed really happy that we were giving them crepes," Luong said.