EL Ambassador's Program connects Homestead students
Mentors and mentees meet at the program's first meeting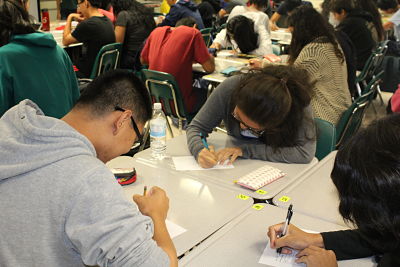 The English Language Development (ELD) department recently kicked off the Ambassador's Program, a yearlong activity that connects EL students with student mentors. The program, which meets weekly during Tuesday tutorials, aims to help EL students with the social and communicational aspects of high school.
At the program's first meeting on Sept. 22, mentors met their mentees for the year and participated in activities to familiarize themselves with each other.
The school's EL Commissioners, senior Ronnie Li and juniors Tej Gokhale and Yvonne Yang, led the meeting with a PowerPoint presentation, assisted by program advisors Grace Henson and Wilma Wu.
Henson, who is beginning her 15th year in the ELD department, said ELD students previously had tutors and teachers to help them with academics, but no help assimilating to high school culture in America.
"We needed something where the students would be more involved with the rest of the student body," Henson said.
The program, founded in 2008, started with around 20 students, but has now doubled in size.
"
When you're not good at a language, you don't want to talk to people"
— Ronnie Li
Each meeting usually begins with a presentation from the EL Commissioners about upcoming events and holidays at school, as well as a topic about American culture. Mentors and mentees are prompted with questions about the topic to discuss with each other.
The program also puts on several events throughout the year, including a Halloween Movie Social, Thanksgiving Lunch, Christmas White Elephant and International Soccer Tournament. Some of these events, such as the soccer tournament in the spring, are open to participation for the entire school.
Currently, mentors and mentees are encouraged to spend time together at least once each month outside of the weekly meetings. This year, the EL Commissioners and advisors hope that partners will meet up more than once each month, suggesting that students take their mentees to see a movie, attend a club meeting or just hang out. This will allow mentees to further experience social events in the local area.
Li joined an ELD class the second semester of her sophomore year, after moving to the U.S. from China.
"When you're not good at a language, you don't want to talk to people," Li said. She hopes the program will encourage more students to open up about themselves, their cultures and their interests.
"We meet all the new EL students. For me, it was really nice to meet them because I was one of them," Li said about her aspirations for the program. "I really want us to be a family."