District Red Cross clubs create common goals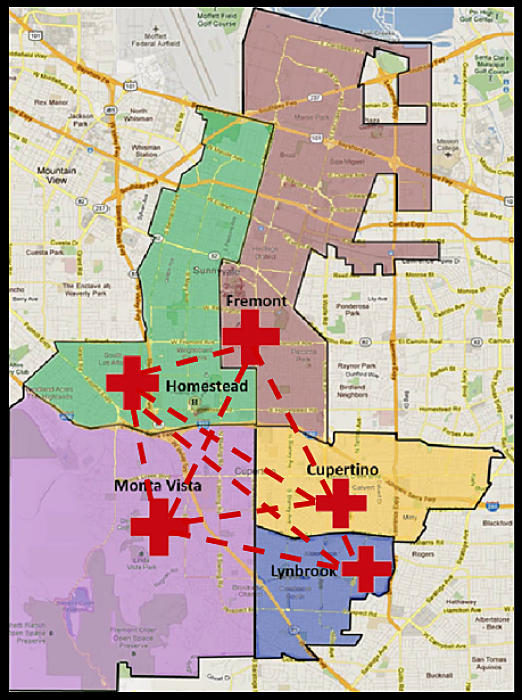 There are over 100 Red Cross centers stationed all over California, not to mention the Red Cross clubs run by high school students spread out over California's 330 districts. With so many locations and vast availability of volunteers, the importance of a common goal increases.
According to the official Red Cross website, their network of generous donors, volunteers and employees share a mission of preventing and relieving suffering, here at home and around the world, through five key service areas: disaster relief, supporting America's military families, lifesaving blood, health and safety services and international services.
This network of like-minded individuals provides a strong outreach to the citizens of California, especially students. Within FUHSD, Red Cross club is one of the most well-known clubs on the LHS, FHS and HHS campuses. With the increasing commonality of Red Cross clubs in Bay Area schools, groups from different campuses have created a system of resources that can be used to their advantage.
One event that joins local club presidents together is the monthly Silicon Valley Chapter Liaison meetings. These meetings not only bring together Red Cross clubs from the FUHSD, but from outside the district as well.
"We often are able to bring up and discuss ideas for new events, which we can implement into our clubs," LHS Red Cross President Aarushi Agrawal said. "We also are able to host join blood drives and other meetings, which also allows for greater attendance and correspondence between clubs."
Frequently-held events include disaster and refugee simulations and radio training. Other events include the "Pillowcase" project, where students teach kindergarteners about disaster preparedness, and the "Sound the Alarm" project, where students help fix and install fire alarms around the neighborhood.  
HHS Red Cross President Reet Mishra and FHS Red Cross advisor Mary Crawford provided updates on what each respective school was currently working on, as well as their plans for the rest of the school year.
"Currently, we are in our Health & Safety Unit, so we are offering [free] CPR/First-Aid classes for members that volunteered over 10 hours this year, and a fee for those who haven't," Mishra said. "This is in accordance with our chapter, so students from all over the district will be there."
Meanwhile students at FHS are taking action to help those in need across the nation by working towards providing relief for the hurricane that occured in St. Thomas, a city in the U.S. Virgin Islands. In the future, Crawford reports that FHS Red Cross plans to continue the progress made this year by contributing to the community through certifying more members.
As for upcoming HHS events, Mishra informs that students can expect to see a 5k Charity Fun Run in the near future, that will raise money for the wildfires that ravaged California last fall.
"We are still in the logistics stage, but hope to do it around late April, early May," Mishra said.
The communication between factions has made for cohesive programs that act in accordance to neighboring schools. Despite coming from different schools, areas and social backgrounds, through Red Cross club, FUHSD students join together to provide compassionate care to those in need.