Khanna hosts youth focused town hall on gun control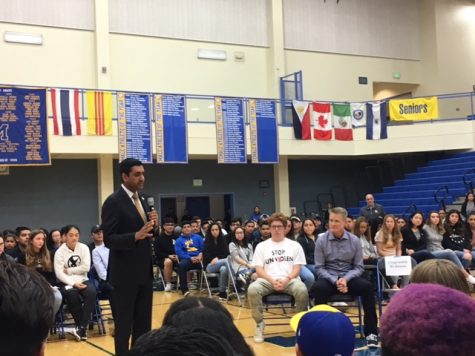 Newark Memorial High School hosted Rep. Ro Khanna's (D-CA) town hall meeting on March 12 to give teenagers a platform to speak about gun control.  Khanna was accompanied by Golden State Warriors coach Steve Kerr and Matt Deisch, a student activist from Parkland.
The event began at 3:45 p.m., with a line around the building beginning an hour before. High school students were allowed immediate entry inside the school gym, while adults waited outside. Inside, the gym was set up with chairs and cameras from various news outlets.
Mission San Jose High School student Sonia Tasser said she attended the meeting because gun control is something she's very passionate about.
"To have the feeling that you're not safe at school is something that should never happen," Tasser said.
The meeting began with opening remarks from Khanna, followed by speeches from Kerr and Deisch. Then the floor was opened for students to ask questions to Khanna, Kerr or Desich, with press questions after. Congressman Mike Thompson, who chairs the House Gun Violence Prevention Task Force, closed the meeting with final remarks.
The entire meeting emphasized the importance of youth involvement.
"Your title doesn't matter," Khanna said. "What matters is your authenticity and passion."
Kerr compared today's movement for gun control to the civil rights movement and Vietnam war protests, both of which were led by students.
"For the first time it feels like something is happening," Kerr said.
Other subjects addressed included bipartisanship, arming teachers and the Second Amendment.
When Deisch spoke, he focused on means of action for students to take. After sharing his experience with the Parkland shooting, he asserted the need for youth to demand actions from leaders.
"Register to vote, take this to the ballots, so we can have leaders that care about us and not their wallets," Deisch said.
Deisch also mentioned the march against gun violence on March 24. There are 3.5 million people registered to march so far, he said.
When Congressman Thompson concluded the meeting, he cited multiple organizations, such as Brady Campaign, Giffords Campaign, Everytown USA and speakforsafety.org, to get educated from and involved with.
Deisch said using resources to receive more information is important, and to keep learning more about the cause.
"They don't want us to talk about it, they want us to forget … I promise you we won't," Deisch said.