Choir receives perfect score at CMEA
O
n March 10 HHS Choir performed at the California State Music Association (CMEA) festival hosted at Saratoga High School. The group achieved the highest possible scoring of unanimous superior.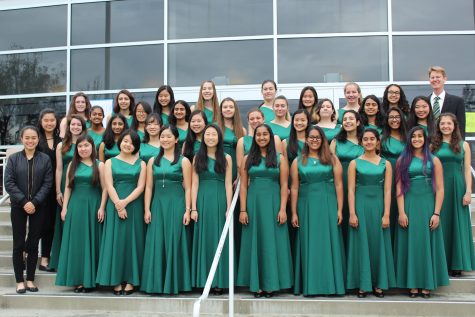 A unanimous superior is when all three of the judges give the performance a perfect score, Senior Ivy Janes said. Getting the highest scoring possible was a step up from previous performances, she said.
Last year, the chamber choir scored a superior, Janes said. For a superior, only two of the three judges grade the performance as superior.
"I wasn't really that nervous… it was a nice space to perform and I think we did really well," Freshman Verrue Vummidi said. However, confidence was not what led them to the perfect score.
"We practiced for weeks before the CMEA happened, it was just constant practice of the songs," said Vummidi.  
"[Getting he unanimous superior] felt really good, it restored my faith in the choir," said Vummidi.
Choir is going to another CMEA event in May this year, Janes said.