Women's Empowerment Ambassadors (WEA) hosted a meeting at lunch on Thursday, March 15 with a former club officer, Tingyee Chang.
Chang is a junior at the University of Southern California and is currently studying public policy. She chose to discuss this topic, she said, because of a roommate who had recently gotten out of an emotionally abusive relationship. Her shock and anger in response to what happened caused her to share her roommate's story with everyone she knew, Chang said.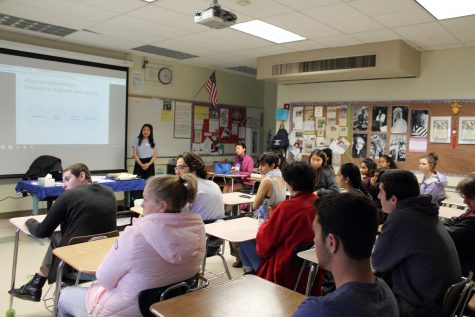 "When I shared this story with people, I noticed that a lot of people had expressed that they shared similar experiences. Either they had realized the relationship was abusive and left or they had realized after they left the relationship," Chang said. "The proportion of people who shared similar experiences was overwhelming and I knew I had to do something."
WEA´s method of bringing awareness to certain topics inspired her to share the story of her roommate there, she said.
"This was the place that I had gotten my start as a young feminist and just simply as a young person and I thought that many students could benefit from this topic," Chang said.
Her presentation included the story of her roommate and what the differences between a healthy, unhealthy and abusive relationship are. Chang continuously stressed the importance of communication, consent and power within any relationship, be it platonic or romantic.
Her presentation also included a short activity at the end where two pairs were given a slip of paper with a certain relationship behavior and had to identify whether it was healthy, unhealthy or abusive behavior.
In terms of why this topic is so important, especially amongst young people, Chang discussed the lack of education and conversation surrounding this topic.
"One thing that I always notice is that many people are not aware of what sexual assault or rape looks like and so they come out of these sexual experiences feeling bad about themselves, only to learn later on that that was rape or that was sexual assault," Chang said. "If we can spread awareness about what the rules and parameters are, then we can prevent this behavior early on."
WEA has constantly strived to educate and encourage discussion with their members when choosing their topics, Elena Kamas said. Officers Dan Cohen and Elena Kamas explained how they chose their discussion topics and what the club's goal is.
"There are things that we know that we need to talk about as a feminist organization," Cohen said. "Things that are happening in the media, big debates right now, things happening in legislation. But we also place an emphasis on things that have a viable application right now. We try to focus on things that are happening daily, and what we can do about it."
Cohen participated in the activity and shared his thoughts about the presentation as a whole and what he got from it.
"I don't think that half the world's population is a monster and yet I do think that the entire world's population is capable of doing really bad things and we have to be aware of that," Cohen said. "Today we like to say that there are the good guys and the bad guys. In relationships, however, there is that funky gray area. Anyone is capable of being a perpetrator and we need to bring awareness to that."
Kamas shared her feelings about why WEA is a special platform for topics of discussion.
"One thing that I always admired about WEA even before I was an officer is that they were never afraid to talk about anything," Kamas said. "If a topic was deemed important, that we will bring awareness to it … With WEA, people are really supporting each other, they are caring for each other, and they're listening to each other. Education and understanding is our main priority and the fact that we made that our foundation makes us different from other clubs."