FBLA competitions starting soon, upcoming tryouts
H
HS Future Business Leaders of America, or FBLA, will be hosting tryouts for competitions starting on Oct. 22 for written and technology competitions, and on Nov. 5 for speaking competitions.
There are three different types of competitions, — written, speaking, and technology — each one handled by its own competitions officers who direct and help their respective competitors.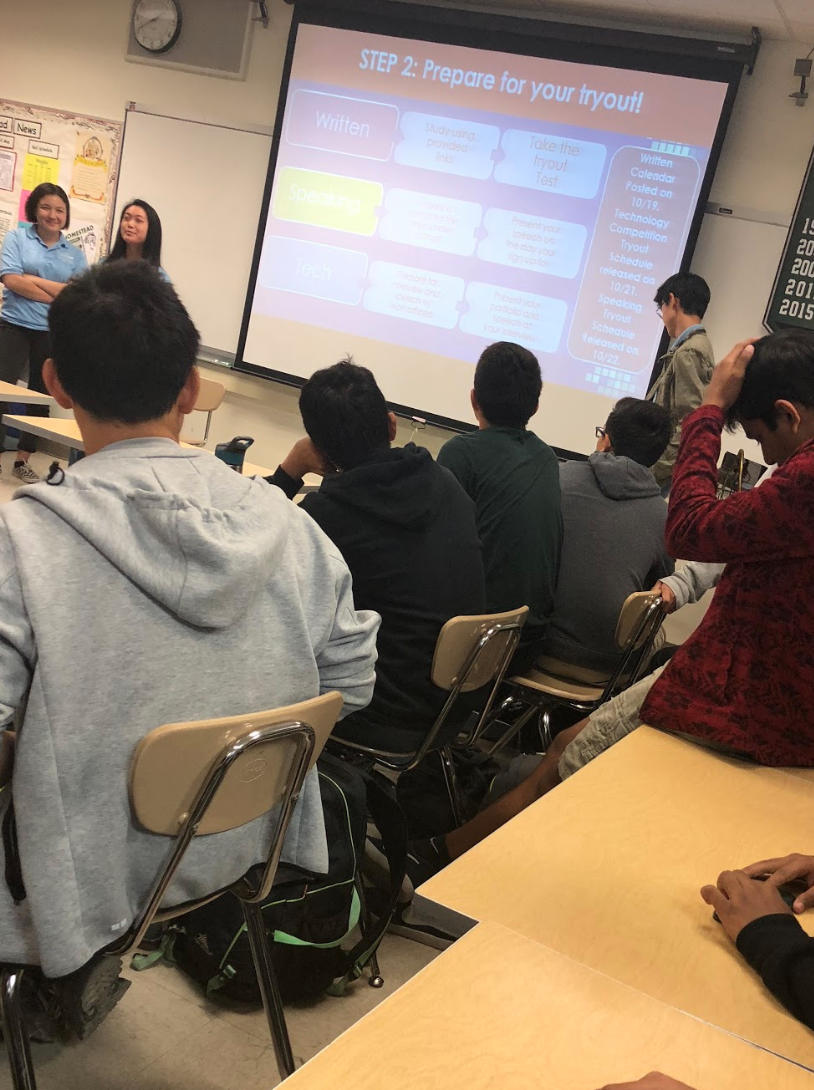 "Mainly what we do is manage the competitors, so we're going to be administering tryouts in the coming month," FBLA Vice President of Speaking Competitions and junior, Zibaa Adil said. "After that, we're going to organize the competitors into teams and go from there. [We're going to] get them ready for the Bay Section, then the state competition, then the national competition, and give them a lot of opportunities to prepare and practice so that they're as ready as can be."
Six students are chosen to compete in each written competition, completing a 100 question multiple-choice test, said Vice President of Written Competitions and junior Kelly Mao.
"Most of the preparation is just studying everything under that topic … Each competition has a rubric, besides written competitions, which are just scored," Mao said.
Mao, who has participated in all three types of competition, said that written competitions were a good way to get involved and experience conferences in FBLA.
Contrasting to written competitions, students can engage in speaking competitions, either working individually or in teams to orate prepared or impromptu speeches, Mao said.
Additionally, speaking and technology competitions can be related, Adil said.
"Within both speaking and tech, there are case studies, which are kind of more impromptu, and with the tech competitions they are obviously more based in technology. So, for production testing, an example is [to] complete a task; other competitions within tech are [creating] a project such as a video, a computer game or an app, and present about that," Adil said.
Adil has participated in both speaking and written competitions.
"From the written point of view, it's pretty cool because you're motivated to study when you're in a group of five other people, and you can work with them … For speaking competitions, it's a different vibe. Since you're working directly in a team for one product, you really gain a lot of teamwork and love for your team members. You get really close to them, and it's really cool to see all your hard work pay off at the conferences," she said.
Junior Darren Hsing, Vice President of Technology Competitions, also expressed what he gained from being in competitions. Participating in both Skillvent and case study technology competitions, Hsing thinks hard work does generate good results.
"For case study tech competitions, it was really interesting working with our team of three to produce study sheets and everything like that — all the resources necessary to help us prepare ourselves for the written part of our competition. As for the case study impromptu part, at the conference, it was just really exciting to see all our work pay off," Hsing said.
All of the competitions officers encourage all students to try out, even if they don't have much experience.
"Even if members don't have experience coming in or their public speaking isn't that strong, we can always work with them and they can get better at it," Adil said.
Hsing added on, talking especially about technology competitions.
"I want to emphasize for tech competitions [that] no experience is required at all. You can come in without any knowledge and we have the resources necessary to help you … we provide all competitors with the necessary resources, and that includes … textbooks, practice tests, and … we connect our competitors with professional mentors that will help them throughout their competition's process," Hsing said.
Not only do competitors not need experience, but they also have a large selection to choose from, Mao said.
"We have a ton of competitions, like around 70. So, even if people don't think they're interested in business specifically, there's a lot of subtopics that might be more interesting to them," Mao said.