Carlos Gonzalez fights for his goals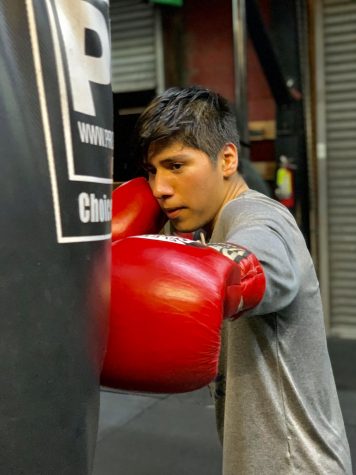 T
he sports that HHS students participate in are not limited to the ones offered by the school. Senior Carlos Gonzalez has been boxing for over six years now however he started out doing muay thai and kickboxing.
"My parents wanted me and my siblings to do some sort of self defense," Gonzalez said. "They wanted us to learn how to defend ourselves for anything that could happen."
Gonzalez puts a tremendous amount of hours into his boxing each week, both inside and outside of the gym.
"Everyday after school I would just go home, try to get some work in and then I would go to the gym at 6, leave at 9 or maybe 9:30," Gonzalez said. "It's every day of the week, Monday through Friday."
The training and work does not end there, though. For Gonzalez, there is more training on Saturday and Sunday, unless there are fights or tournaments going on. Due to the harsh amount of hours, Gonzalez has to make a lot of sacrifices in his life.
"I have to make some sacrifices, I may not be able to hang out with my friends, I can't go out to go eat, I have to cut time off a lot," Gonzalez said.
Currently, he is putting in extra work because of the larger tournaments coming up. This means that the hours are longer and the requirements are more strict. One of the most difficult requirements for
Gonzalez is having to lose weight for a fight.
"It's really hard to get ready for the big fights because you have to lose weight, I have to get on diets," Gonzalez said. "I have to lose up to ten pounds sometimes."
Gonzalez never sees the difficulties and sacrifices as a negative, and knows that they will benefit him in the long run. Due to the long hours he puts into the gym, he has faced a lot of success.
"I've won three norcal, I've won a state, and I could've gone to nationals on my eighth grade year," Gonzalez said.
Gonzalez always gives it his all when he boxes, to make his supporters proud. He is incredibly thankful for his family, friends, gym and for helping him throughout his journey.
"Your opponent is training just as hard as you, so you want to train harder than they are. You never want to be average, you want to be above and beyond."