FPA's cow dissection helps members gain exposure to a possible career path
The dissection allowed members to get a valuable hands-on experience
Future Physicians of America held a cow eyeball dissection where members could get hands-on experience exploring and analyzing the anatomy of an eye on May 3. Around 16 members came to the event and got to dissect the cow eyeball that the FPA officer team had obtained from the science department.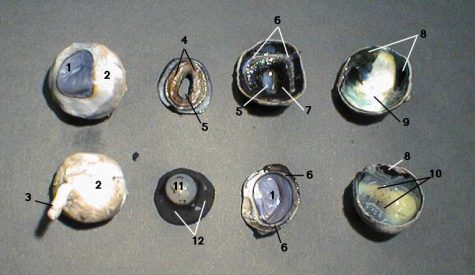 Prior to the dissection, members were shown a video that showed them how to dissect a cow eyeball, and were then given free time to explore the cow eyeball by themselves or with friends, FPA activities director and senior Lauren Lowe said.
The main purpose of the dissection was to give members the opportunity to experience medicine and science outside of the typical classroom setting.
"The whole idea was to get people to be able to touch and feel things, [like] actual organs of the body. [It's] kind of a different way for people to learn than through lectures and stuff," FPA president and senior Neya Moore said.
A noticeable benefit that comes from doing a hands-on dissection is that the knowledge learned in class can be applied to real-life situations.
"[Dissections] help you learn a lot, because not only do you get to see, but you also get to really tell the physical side [of science]," Lowe said. "Because you're holding it in your hand, you can tell how tough something is, how hard you need to poke it, that kind of thing. That's an important part to learning medicine."
FPA hoped that through the dissection ,unsure members would be able to determine whether or not medicine was the right career path for them to follow.
"[I]t's good for people to discover things about themselves, like hey, if this grosses you out a lot, then maybe you shouldn't pursue medicine," Lowe said. "Or, if it really intrigues you, then maybe medicine is the path that you should definitely be on."
For the members that already they know they want to pursue the medical field, the cow eyeball dissection served as a good example of what the career entails.
"Getting that hands-on experience is an important part of medicine, because in that field you're mostly working on, learning about, or studying those parts of the body, even if it's not in humans," Moore said.