FBLA spreads positivity and thankfulness through simple cards
A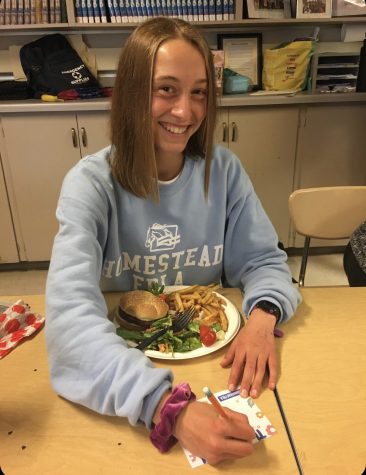 t a general meeting at the end of March, FBLA gave their members the opportunity to reflect on the people who had made the past year memorable.
The officers handed out papers and told their members to write something on the paper if they wanted to show appreciation to teachers or any of their friends. Afterwards, the officer team would deliver the cards, said Junior Shawheen Wingrove.
FBLA members generally wrote thank-you cards to their friends, expressing their gratitude for their companionship.
"I wrote my cards to Mayuri Hebbar, Sahiti Kadiyala and Sruthi Rayaprolu," sophomore Rujuta Swadi said, "I thanked them for… always [being] there for me when I'm upset or something is going on… because I understand that it can be hard for them to [do that] when they have other things going on."
Friends weren't the only people that FBLA members wrote cards to. Others wrote their cards to advisors, as well.
"I thanked the advisors for everything [they've done] for Homestead FBLA because it wouldn't be possible without them," freshman Arnuv Tandon said.
When given the thank-you cards, the receivers were happy and emotional, because they felt they were being appreciated.
With all the stress that comes with school, and life in general, this event was kind of a way to lift spirits up. It helps students who work really hard and advisors who hold FBLA together feel that that hard work is seen, said Tandon.
In addition, the activity was just a really nice way to lighten the mood as upcoming tests and finals get closer.
"Everybody deserves a little pick-me-up every once in a while, to feel good. It's nice to know that you're appreciated," Wingrove said.