FBLA finds success at states
H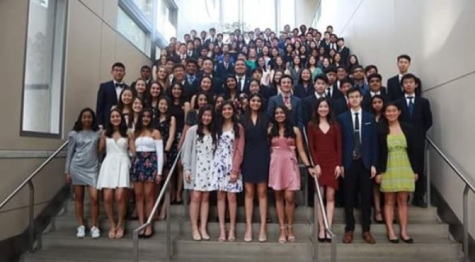 HS FBLA received first place for the 21st time at the state championships. The competition took place in Sacramento from April 25th- 27th.
All of Homestead's case studies and projects received first place, as well as some of the speaking competitors, sophomore Sruthi Rayaprolu, one of FBLA's Partnership with Buisness chairs, said.
"I think that it's a great thing that happened to Homestead FBLA," Rayaprolu said. "One of our competitions officers, Darren; he's been working really hard throughout the year to help prepare us for this win, and I think it's really incredible how much work our competitors have put into FBLA to create it for us."
There is a certain amount of stress on everyone competing, however there is an additional amount of stress for the competitions' officers, who are responsibile for upholding the legacy of the club.
Throughout the competition, the competitors used various methods of coping with stress.
"Personally, I sat down with my team and many of our dedicated members …we just sat down and held our hands and said prayers and [spread] good vibes and just recollected all our memories throughout the year that were really special to us," Rayaprolu said.
Byron Lee, one of the co-advisors of FBLA has been working with the team for the past 26 years andhas seen FBLA evolve into national champions.   
"There's no silver bullet per se, it's just that … students work incredibly hard, they support each other," Lee said.
Focusing on learning the material and learning from one's mistakes will pave the path to success, Lee said.
"If you learn… then success will follow, sometimes it does not, but most of the time it does," Lee said.
Regardless of their success, Lee will never be disappointed in them.
"These kids, they amaze me and inspire me, so keep at it," Lee said.