Mock Trial allows students to explore the field of law
M
ock trial works to educate students on the law, through real-life trial simulations and other preparations.
"Mock trial deals closely with the law aspects of trial and also deals closely with thinking on your feet," Katie Rizkalla, Co-Vice President of Mock Trial, said.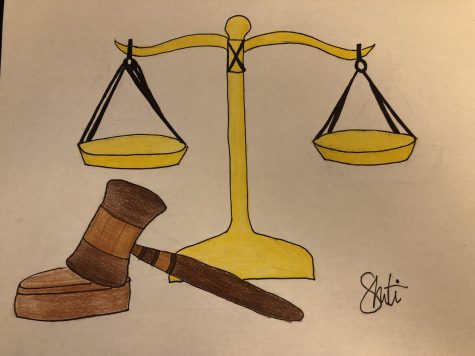 Mock trial members work to develop a case over the course of the entire year, before presenting it at a real courthouse, against other teams from various schools.
Members are selected to participate in the trial at the end of the year, through various tryouts held at the very beginning of the year, according to Rizkalla. The officers meet before the tryouts, to determine how the tryouts are structured, and to determine the criteria on which they are selecting members.
The trial itself, held at the end of the year, has a very particular structure, according to Rizkalla. First, there is a pre-trial component, in which members discuss the constitutionality of an issue, and whether or not the respective issue should be admitted to court. Some factors that are considered during the Pre-Trial include the due process, whether it is speech protective of the first amendment, and the constitutionality of the evidence or charge.
The trial begins shortly after the Pre-Trial, and consists of the opening statements, followed by the witnesses statements. The witnesses are then cross-examined. Afterwards, the defense and prosecution present their cases, and the trial ends after both sides make their closing statements.
The HHS chapter of Mock Trial has many qualities they attribute to their success, Rizkalla said. All the team members get along with each other, work hard, and truly enjoy what they are doing.
"We are a small team and we get really close with each other over the course of the year, which is really special," Rizkalla said.
Mock Trial holds practices every week, and hosts a variety of workshops and showcases throughout the year, as well.