Mustangs lose to Mountain View in season opener, but come back to slaughter SSFHS in game 2
Varsity football opened the season against the Mountain View High School Spartans in a game on Friday, Aug. 30. The game concluded with the Mustangs losing 35-7, with Harold Rucker III scoring HHS's only touchdown during the third quarter.
Before the game, coach Milo Lewis knew Mountain View's skill would be a challenge, on top of other issues.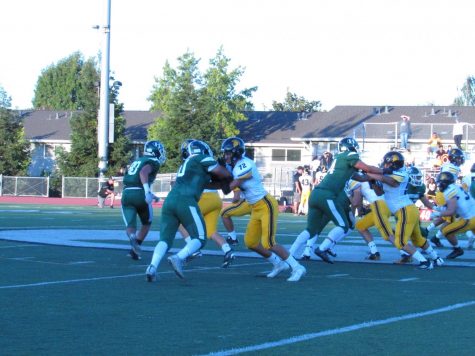 "[Mountain View] is well coached," Lewis said. "Going in, I didn't feel good about it because we started off the week bad … if you don't start off right, then you are capable of having bad things happen."
Mountain View demonstrated their ability in a previous game against HHS in 2018, winning 21-14.
"We wanted to win," junior Devin Lucas said. "That's the expectation we have going into every game. But when we were going into it, we saw that [Mountain View] had a lot of strength and we don't think that we … prepare[d] for those strengths very well."
On the other hand, players looked forward to their next match against South San Francisco High School on Sept. 6, which they won by a landslide, with a final score of 67-6. Check out our archived Sports story on Instagram (@hhsepitaph) for coverage of that game.
"I am [optimistic]," senior Jared Wade said. "They don't look that good on film and they have pretty much have one weapon … the quarterback … I think we have a better chance of winning than losing."
Following poor performance in the MVHS
game, the team tailored their training in preparation for the SSFHS game, Lewis said. It paid off.
 "We changed [practice] by having the athletes start out on the right foot," Lewis said, before the game was played. "Now, if that transfers to winning a game, I can't tell you.  But it can't get worse than not being prepared. At least I know we are prepared now."