Hulu vs. Netflix: which streaming platform is right for you?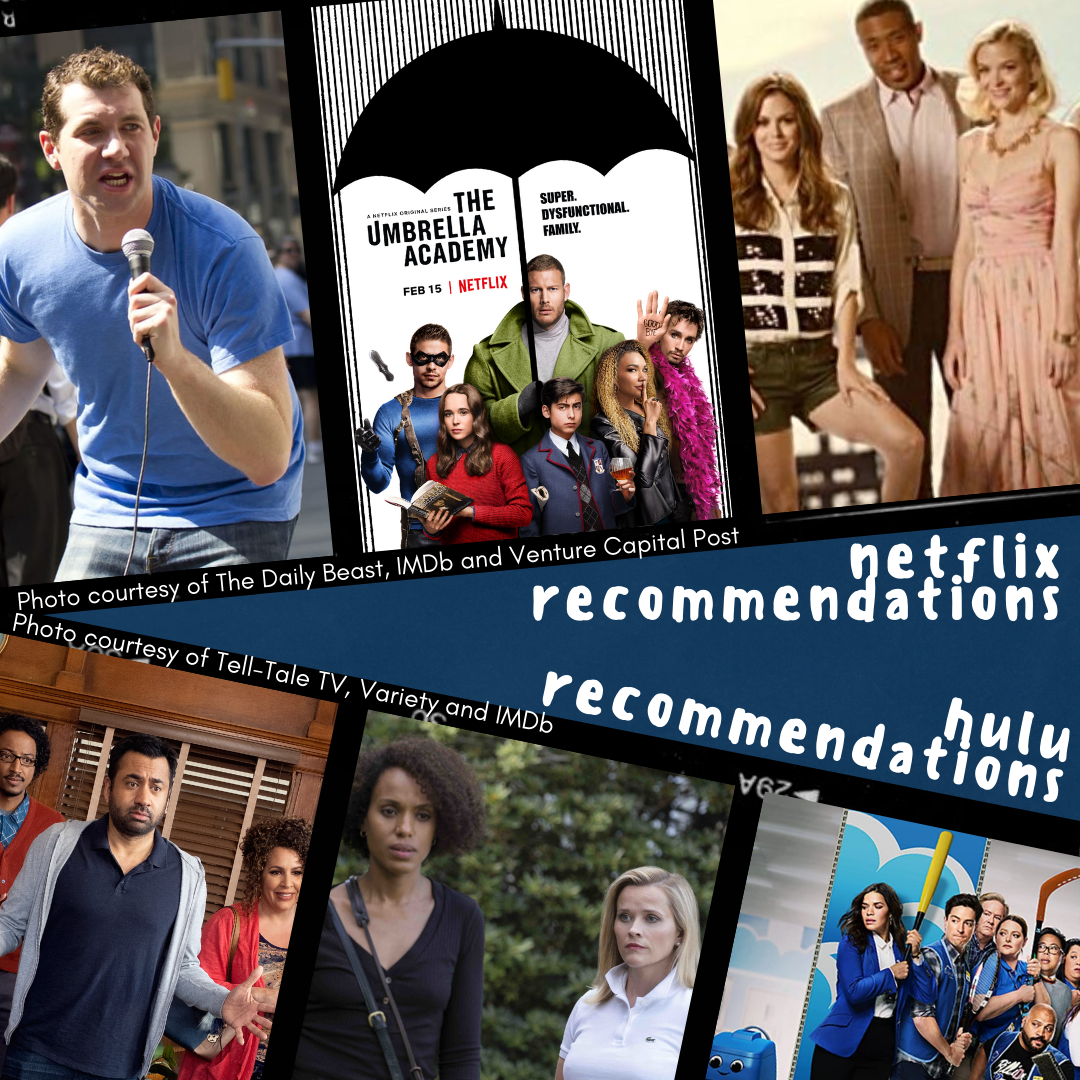 I watch an embarrassing amount of television — so much so that I use two streaming platforms, Netflix and Hulu, because I had exhausted almost all of Netflix's options. Today, I'm going to break it down and help you find the streaming platform that is perfect for you!
PRICE In terms of the cheapest streaming option, Hulu wins. Its basic package begins at $5.99 a month, and you can stream your show on two screens, meaning you can online shop or write your essay as you watch your favorite show. Netflix's basic package begins at $8.99 a month, but you can only stream your show on one screen. While Hulu might be the obvious choice, the basic option does come with advertisements between shows. To watch ad-free, you can subscribe to the premium package at $11.99 a month. Ultimately, the most price effective option depends on your priorities (advertisements versus screen sharing).
QUANTITY AND QUALITY According to Diffen, Netflix offers 100,000 TV shows and movies that tend to be older. Meanwhile, Hulu offers a smaller selection, with 4,150 choices that tend to be more current. 
As someone who does not have cable, Hulu is a very attractive option. While it does offer a package with live TV at $39.99 a month, I find even without that option, I can still keep up to date with most of my cable TV shows. Hulu offers shows like "Jeopardy," "Saturday Day Night Live," "American Idol" and "The Bachelor" and updates the latest episodes within a day it airs. 
Meanwhile, Netflix releases new content season by season. If you are a serial binge watcher, Netflix is right up your ally. However, if you like to always be updated and don't mind bite-sized pieces, Hulu is for you.
In terms of iconicity  — a factor I just made up that describes the amount of iconic shows with a cult-following — Netflix takes the cake. While I find Netflix has a greater amount of iconic shows, Hulu offers a greater variety of more mediocre but still enjoyable shows.
Netflix has classics like "The Office" and "Grey's Anatomy." 
Hulu has shows like "American Housewife," "Superstore" and "Brooklyn Nine-Nine" that are awesome shows but not yet a pop culture phenomenon.
ORIGINAL CONTENT Netflix's original content is legendary, and it is a big reason why I returned to Netflix (specifically, it was the release of "On My Block" season 2!). Netflix not only has a great variety of options, but also incredible quality. It is hard to go on Buzzfeed without seeing the hype for the latest Netflix original production. 
What is impressive about Netflix is that they do not stick to one genre — with the success of movies like "To All the Boys I Loved Before," for example, it would have been easy to pound out rom-coms like no tomorrow. However, Netflix continues to diversify its content. 
Netflix originals go international, such as Korean drama "Crash Landing into You," and they cover important issues, such as the "Trials of Gabriel Fernandez."
Not only that, I find that their content is usually right on the nose in terms of what I, and many of my peers, would enjoy watching. I find that for the most part, a lot of the content in reference to today is often authentic and not cheesy in trying to relate to the current generation. 
Netflix Original "Sex Education" is a great example — it talks about a commonly taboo topic in an open, accurate and refreshing way.
With all my raving about Netflix's original content, I will say Hulu's original content is definitely up-and-coming. Hulu has pretty legendary content as well, such as "Handmaid's Tale" and "The Act," about Gypsy Rose Blanchard. Browsing through Hulu's original content, I find that they do miss the mark a lot more compared to Netflix in terms of targeting what an audience will be actively engaged in. Netflix's original productions have a distinct brand — hard-hitting, addictive and well-made while Hulu productions have a few hits here and there.
That being said, there are several Hulu originals that I see immense potential in or are criminally underrated.
Hulu's movie "Big Time Adolescence," for example, with Pete Davidson and Griffin Gluck of Netflix's "Tall Girl," looks to be the step in the right direction — an easily relatable, feel-good coming-of-age. Adapting the popular John Green novel "Looking for Alaska" is also a promising movie on Hulu as well.
But most promising of all Hulu originals is "Little Fires Everywhere," based on the novel by Celeste Ng. Not only is the series the most promising, but it's also on par with a lot of Netflix Originals. It is beautifully produced and executes detailed nuances of the plot that brings a new understanding entirely just through cinematography. The cast is exceptional as well, with seasoned actresses Reese Witherspoon and Kerry Washington. Every cast member is incredibly authentic and the choice of their casting, like with many decisions in the show, are well-thought out.
EASE OF USE This is a minor factor, but Netflix is much easier to use than Hulu. With Hulu, you have to add shows you are interested into the "my stuff" folder, where you can resume watching all the shows you saved. However, coming from Netflix, it is easy to begin a show and forget to add it to your "my stuff" folder and you risk forgetting about it entirely. 
Netflix is much more convenient. Any shows you watch are automatically added to a queue that is immediately seen when you open Netflix.
Furthermore, it is easy for your "my stuff" folder on Hulu to get crowded. When you are finished watching a show on Netflix, it does not permanently stay on your queue. 
Netflix recommendations that are NOT The Office, Parks and Recreation or Gossip Girl
Hulu recommendations if you are just starting out