Celebrity involvement impacts community positively during COVID-19
From helping those who are most affected by COVID-19 to streaming free concerts online, celebrities like Trevor Noah and John Legend are helping aid social distancing efforts. 
Despite the fact that the hardest hit by the outbreak are the homeless, the people working in the entertainment industry are also facing the fallbacks of the disease. To give support and financial aid, the Actors Fund  — founded in 1882 — has become a main source of service for those in need as well as those willing to help.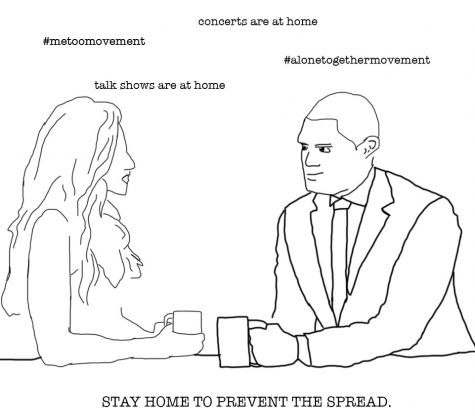 Many celebrities are hosting live concerts through Instagram and having virtual reunions with show members in an effort to raise money. 
The cast of "Jessie" reunited in a "Stars in the House" livestream on April 10 to raise money for The Actors Fund. During the stream, Debby Ryan, Skai Jackson, Peyton List, Karan Brar and Kevin Chamberlain reminisced about the memories they made on the show and took time to honor the late Cameron Boyce. 
Although it's nice to see that people in the entertainment industry are receiving financial support, it's sickening to think they should need it, considering the amount of work they put in. They have just as much involvement in producing the movie as the actors do yet they only receive a portion of the salary. 
Other celebrities like John Legend and Chris Martin are hosting free live streams to keep their fans entertained at home. 
"I feel like the right thing to be doing is to be staying quiet, staying at home and not buying too much toilet paper," Martin said, prior to singing "A Sky Full of Stars."
Following Martin, John Legend streamed an at-home concert with model and TV personality wife, Chrissy Teigan, who provided occasional commentary. 
"
I loved how the message of the movement highlighted the importance of social distancing, but also showed people that even though we are distanced, we are all in this together."
By doing this, these artists are setting the right example for their fans and encouraging them to practice social distancing. Legend also emboldened fans to donate to food banks, if they could. Both Legend and Martin's performances were in partnership for a campaign by the World Health Organization and Global Citizen.  It's so refreshing to see huge artists use their platform to promote social distancing and follow through with what they promote rather than doing the complete opposite. 
Similar to at home concerts, many talk show hosts are filming from their homes, providing comedic relief during this difficult time. However, hosts are honing in on a more important message: the #AloneTogether movement.
According to the New York Times, as companies like MTV and ViacomCBS noticed "pictures of kids on Bourbon Street, being let out of colleges, going to bars," they decided that young people needed to understand their place and role amidst the pandemic.
The #AloneTogether campaign started on March 14, 2020 and while working with the nonprofit group Ad Council, ViacomCBS began pressing the message on its channels and social media where it was further advertised by Trevor Noah of "The Daily Show," Catelynn Valtierra of "Teen Mom" and the accounts for "Jersey Shore," "RuPaul's Drag Race" and "Broad City."
I loved how the message of the movement highlighted the importance of social distancing, but also showed people that even though we are distanced, we are all in this together. The hosts of talk shows not only provided hilarious commentary during their at-home shows, they also provided important and pertinent information to the public in a way that is engaging to viewers. 
Watching these talk shows gave me a heightened sense of consolation, helped me cope with the change and reassured me that even though everything feels horribly wrong, it will get better with time.
I also felt less alone knowing that there were so many other people in the social distancing effort alongside me and that we were ultimately distancing together. 
Another popular movement that started as a result of COVID-19 is the All-In Movement, which is aimed to supply food to those in need, whether that be kids, elderly or frontline heroes. As an incentive for people to donate, people have the chance to enter a contest to win prizes, such as shopping and making a TikTok with Charli and Dixie D'amelio, being in Kevin Hart's next movie, co-hosting The Ellen DeGeneres Show or landing a walk-on role in a Scorsese film with Leonardo DiCaprio, according to E News. 
Many of these celebrities, not only are participating in these movements, but are also donating a significant sum of money toward the cause. Ellen Degeneres and her wife, Portia De Rossi, are donating $1 million to the All-In Challenge. Leonardo DiCaprio, along with the Ford Foundation, is donating $12 million, which will benefit World Central Kitchen and Feeding America.
It's empowering to witness the impacts both celebrities and regular people are making on the community and the efforts put in to help out. COVID-19's rapid spread is becoming increasingly worse; however, the hilarious yet informative commentary in talk shows, the entertaining at-home concerts and the several impactful movements are more than enough to tide us over and remind us that even through social distancing, we are together.