Homestead Marching Band adapts to virtual rehearsals
Head band director John Burn said when school moved to remote learning last spring, he decided to continue the marching season throughout the stay-in-place order using Zoom rehearsals, socials and in-person pod practices on campus.
The virtual marching band rehearsals are now split into two big portions, Burn said. In the first portion of the night, the students join together and do breathing exercises, then break into sections to practice their music. The second half of the rehearsal is focused on the choreography and workouts. 
"I like the visual [portion of the practice] the most," senior Edwin He said. "It's not too different from in-person [and] it's kind of like going to a dance class. We do hip hop and ballet because we need some of those techniques. And we're doing a project right now with our visuals and [I am] looking forward to that."
In addition to the virtual band rehearsals, the band also has pod rehearsals, where a limited number of students are allowed on campus to practice their marching skills while social distancing and wearing a mask.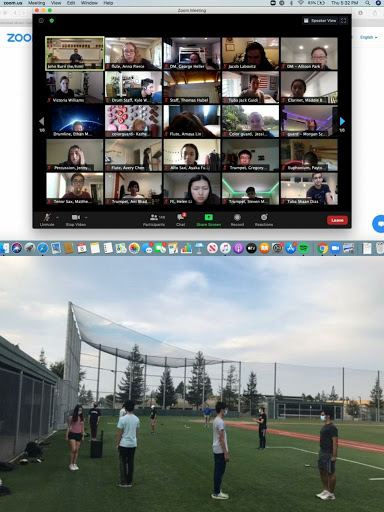 "[The students will] just work on marching, but the drummers get to drum and the color guard used to spin their flags," Burn said. "[The rest] get to work on marching, dancing, stretching out, [and just] being with each other, which is really a great advantage because nobody else gets to do that."
But even with the pod rehearsals, the marchers are still missing out on bonding with their teammates, as well as traveling together, Burn said. Burn said he and the leaders of each section are trying their best to deliver a worthwhile experience to band members, despite the challenges.
"Everyone is putting a lot of emphasis on a virtual Zoom hangout," senior Anna Pierce said. "We [would] get on Zoom and together we'd talk a little bit about what we want and play something together, just online."
Even with the virtual hangouts, He said he is disappointed band members are not able to march together in-person.
"It's really challenging, and it's definitely a totally different experience than doing it in person," He said. "And I do feel bad that the freshmen are missing out on some of those experiences. But I hope that they will be returning members next year, or whenever we come back and then they can finally experience that."
To better the online experience, Burn said he is creating different opportunities for the marching band to perform, such as submitting videos to virtual festivals and possibly showing the video during the school rally or the winter concert. 
The head band director recently created a video for the piece called "Gabriel's Oboe," which has gained close to 5,000 views at the time of the interview, and positive feedback from the Western Band Association, Burn said.
"I'm really proud of the students that are sticking with it and doing their best," Burn said. "Every time I watch the 'Gabriel's Oboe' video, I start tearing up, because I miss the kids so much, and I love seeing them put their all into their music. It's so heartwarming to see them all together, even though we can't be together in real life, yet."