Allowing logging in forests creates concern for climate activists
Tongass National Forest recently lost its environmental protections, climate activists share their concerns
The largest temperate rainforest in the world, Alaska's Tongass National Forest, recently lost its environmental protections. 
On Oct. 29, over half of this 17 million acre forest became open to loggers, allowing companies to build roads through it. 
Coline Lou, vice president of Green Ops, an environmental and sustainability club at HHS, said in a Zoom interview these actions will cause the destruction of one of the worlds last four tropical rainforest ecosystems.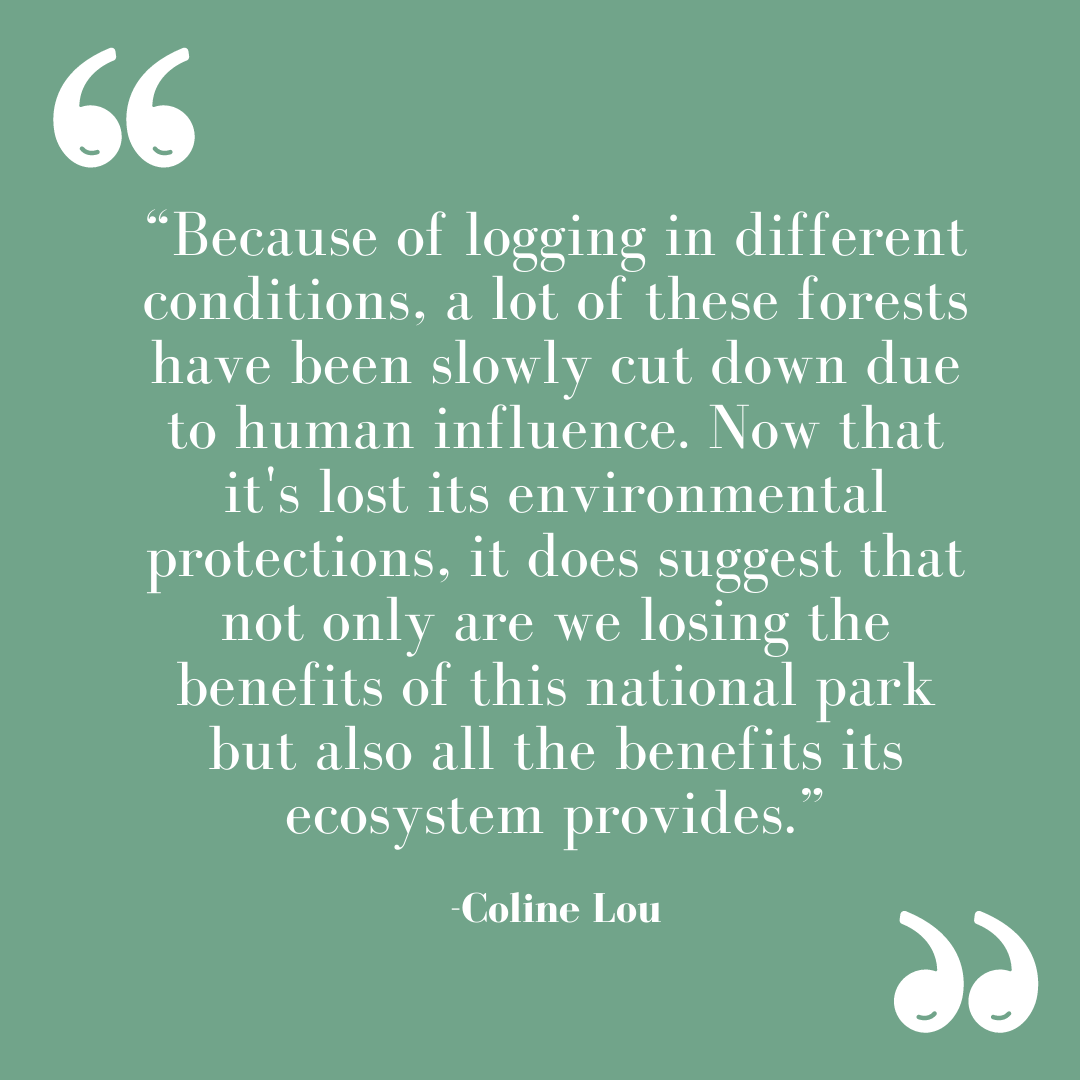 "Because of logging in different conditions, a lot of these forests have been slowly cut down due to human influence," Lou said. "Now that it's lost its environmental protections, it does suggest that not only are we losing the benefits of this national park but also all the benefits its ecosystem provides."
Apart from damaging the environment, the policy will set a negative example for other environmentally protected areas in the future, Lou said.
"I think one of the major effects of this new policy is that it's a start to a new [trend in] environmental policy [that will] essentially [lead to] a future where we are now prioritizing the economy over the environmental protections," Lou said.
This forest contains many old trees which are valuable to the environment. Older trees create more benefits to the environment because the older the trees are, the more carbon they can store, according to NASA. Forests are a type of carbon sink which is a place that absorbs carbon dioxide.
"We really need old forests and areas that have not been affected by humans and development because those are the best carbon sinks," Vinitha Marupeddi, a hub coordinator for Silicon Valley Sunrise, an organization that fights for climate justice, said in a Zoom interview.
In addition, Tongass National Forest is titled a significant ecological area for holding 8% of the pollution produced by the U.S., according to National Geographic.
"The fact that that land has been opened up to other people to degrade, without any regulations, means less carbon will be stored over there," Marupeddi said, "which means more in the atmosphere, which means global warming happens faster."
Similar reforms have been approved for a number of ecologically significant areas, such as  the Amazon Rainforests, and we are now starting to see the negative effects throughout the world, Jamie Minden, an environmental activist and hub coordinator for Silicon Valley Sunrise said in a Zoom interview. Brazil's president launched an executive order allowing the agriculture minister to manage a part of the Amazon, which leads to deforestation, The Guardian reported.
"It can't be ignored that trees create oxygen," Minden said, "and if we cut down all our forests especially large forests and rainforests that provide huge ecosystem services that aren't even truly understood by scientists, we're going to have a problem, not just on a local level or, on a national level, but an international level."
Minden also said lifting environmental protections from this forest will cause drastic problems for us all by accelerating the detrimental effects of climate change. 
According to the Center for Climate and Energy Solutions, federal policy makers have many resources to help advance progress being made. 
"By opening [a rainforest] up to logging, you're basically just signing a death note," Minden said. "We don't have much time and we have the technology and the monetary resources to tackle the climate crisis and the administration is just going in the opposite direction for short term greed. It's really disappointing."