AP Japanese students' journeys to fluency
From learning language to experiencing culture
Japanese is an East Asian language spoken by millions around the world. As a part of the FUHSD graduation requirements, students have the option to choose to take Japanese to fulfill their language credit. 
Yu-Cheng Chuang, Isabelle Fejes and Van Pham are seniors who are part of the AP Japanese class and who have been taking Japanese since their freshman year of high school. 
"I first chose Japanese because I loved Japanese food and anime and manga," Fejes said. "Since my dad and brother love Japanese board/video games, I was exposed to Japanese culture from a young age and quickly wanted to learn more."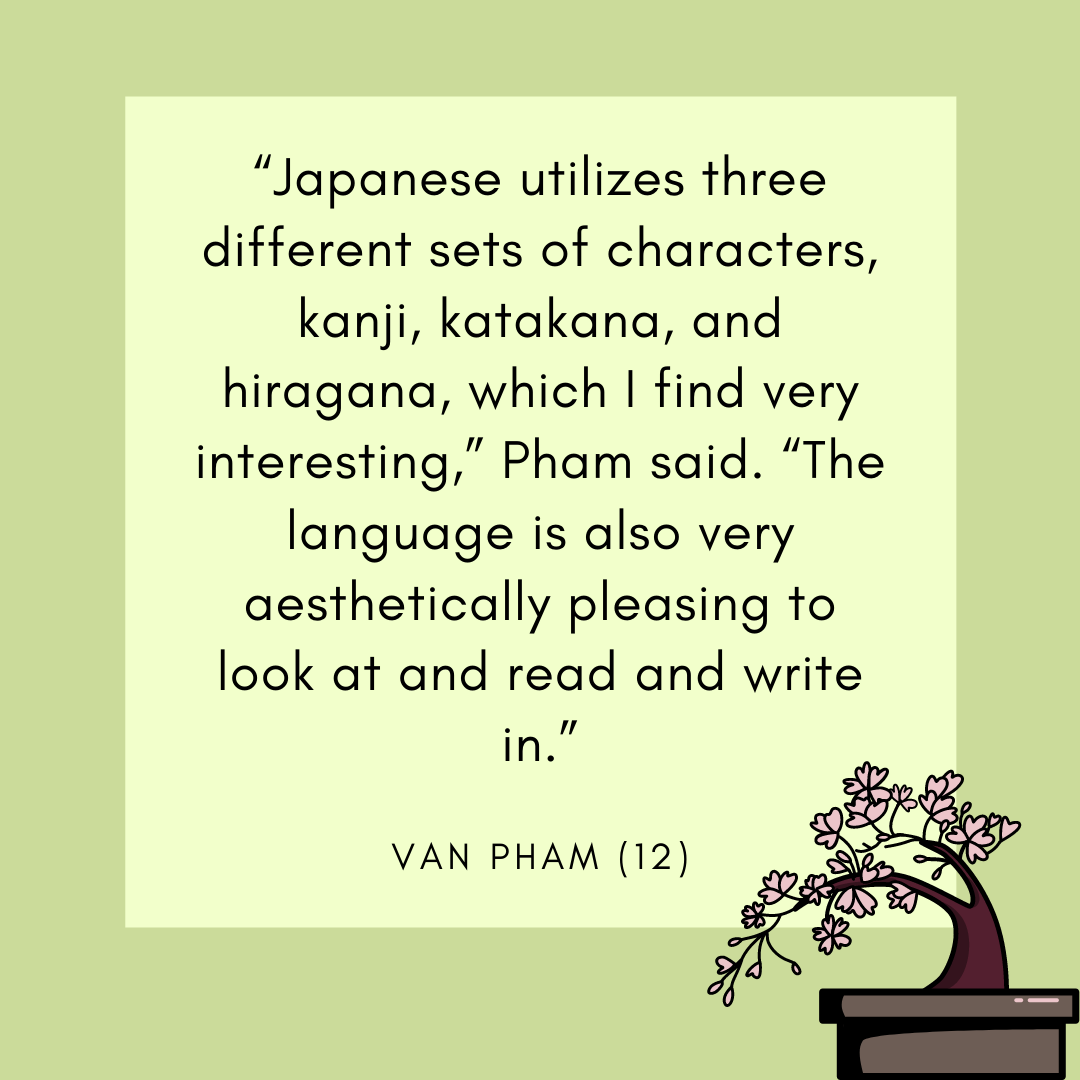 Similar to Fejes, Pham said she was also first introduced to the language through anime. Pham became interested in the language and culture of Japan and said she finds many aspects of the language fascinating to learn. 
"Japanese utilizes three different sets of characters, kanji, katakana and hiragana, which I find very interesting," Pham said. "The language is also very aesthetically pleasing to look at and read and write in." 
Japanese also has a very unique set of rules when it comes to speaking and grammar, Pham said. The language uses many honorifics, language used to show respect, referred to as Keigo, Fejes said. 
"Not only do you need to be careful about how you are coming across in any real conversation, but knowing whether the words being used are formal or not also helps you understand the relationships between characters in stories," Fejes said. 
The use of these honorifics is mandatory in some social situations as a sign of respect and sometimes may be used to emphasize social distance, Fejes said. 
"When spoken, the language has a very polite feeling, which I found interesting," Chuang said.  "I also really like how learning the language often relates to learning the culture and customs of the country too, which I really love."
To teach about the complex language and culture of Japan, the Japanese classes and Japanese National Honor Society (JNHS) host annual events for all students to attend, Chuang said. 
"J-night events were always a lot of fun," Chuang said. "It is an annual event held by the Japanese classes and JNHS that is open to the whole student body for them to learn about the Japanese culture through student presentations." 
J-nights are only one of the activities hosted by the Japanese class and the JNHS club, Fejes said. Students also have the opportunity make memories together at movie nights and karaoke socials. 
"My favorite memory was the JNHS events," Fejes said. "I really enjoyed singing Lemon by Kenshi Yonezu and Star Marker by Kana-Boon at JNHS interdistrict karaoke socials."
Since people around the world have different lifestyles and social structures, learning more about foreign customs can come with cultural shock, Pham said. 
"The fact that everyone gets shoved onto trains like it's no big deal was shocking to me," Pham said, "And the fact that the patriarchal system in Japan is still relevant to this day. Japanese society is really different from what I know and [am] used to."
Although the customs in Japan are different, it is undeniably a country with amazing people and culture, Chuang said.
"I really love the atmosphere in Japan, so maybe in the future I would want to live in Japan for a period of time, and fluency in the language would definitely help," Chuang said. 
With the goal of being fluent in Japanese, Fejes said the experience of learning the language is very rewarding. 
"It makes me so proud whenever I am able to read a manga speech bubble or know what a line in a song means," Fejes said. "Also, when my family visited Tokyo and Kyoto a couple of years ago, I was able to do things like order food for us! I hope to use Japanese with future fun translations and future trips."