California administers new vaccine plan, restrictions ease
Students, staff hopeful for future as cases drop
As the number of California COVID-19 cases steadily declined, Santa Clara County transitioned from the purple tier into the red tier on March 3 and then from the red tier to the orange tier on March 23. Additionally, the county is now part of a new vaccine system that California began on March 1, according to the San Jose Spotlight. 
"The change to the red tier [didn't] affected my everyday life very much," French teacher Madeleine Stanwood said in an email. "My husband and I still take lots of precautions when we go out – we're always masked, we order takeout more often than dining outside and we're both still working fully from home. In terms of my life as a teacher, there have been more changes, as the [tier movement] has led to the opening of more activities and events on campus, so when I do go to campus, I see more people and especially more students." 
The tier changes, along with the news of school re-opening, is one of many changes students are adjusting to.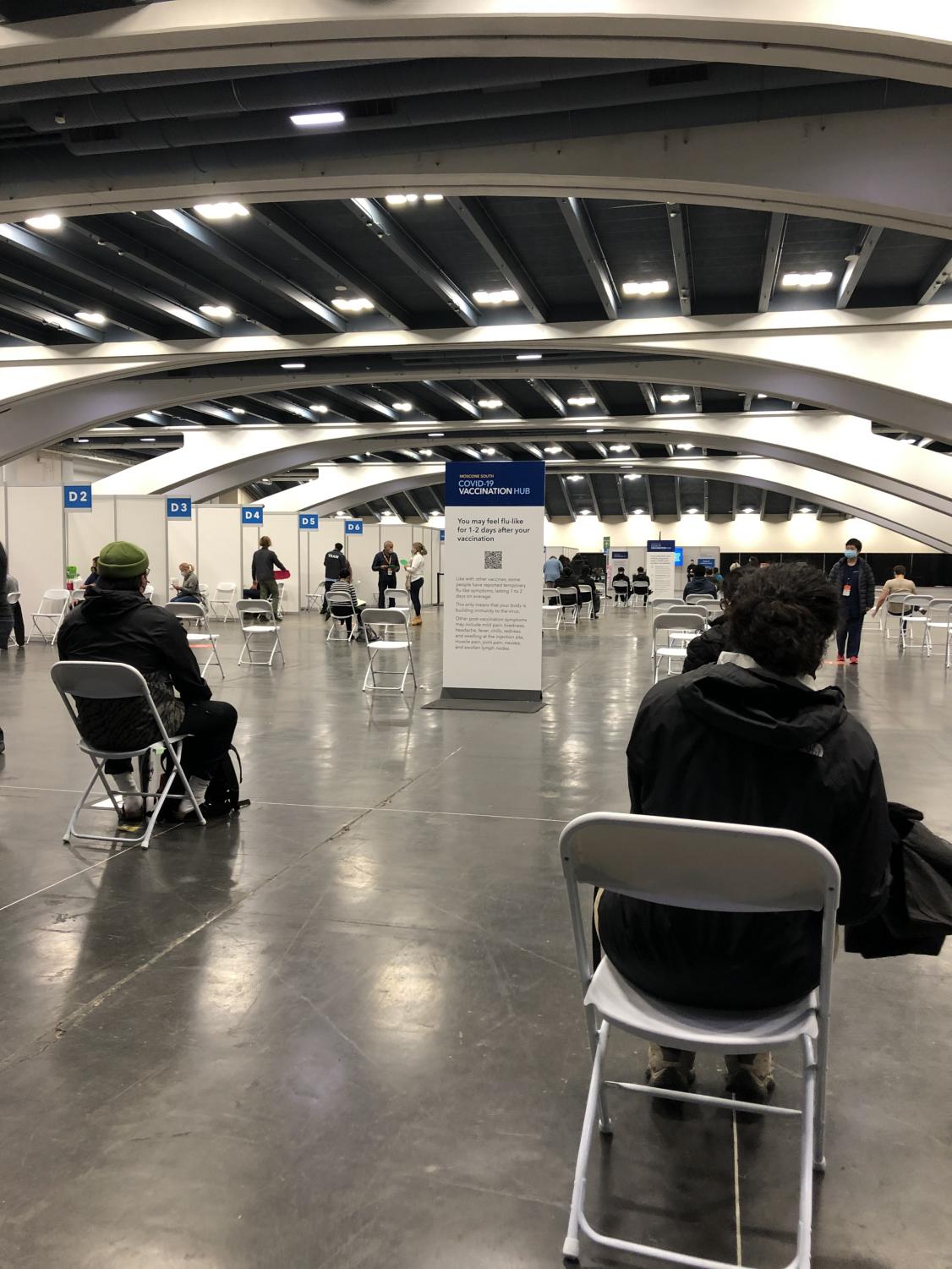 "I'm glad that things are starting to open up again," sophomore Andria Cao said in a Zoom interview. "I'm still cautious around others but eager to get back to living like pre-covid times. I've also gotten so used to remote learning that going back to school and or watching games seems foreign."
The guidelines for youth and adult recreational athletic activities have allowed outdoor games, but still require everyone to wear masks and keep social distance, the San Jose Spotlight reported. The rules for outdoor gatherings, including religious services, have been eased to only require masks if within six feet of someone who is not a member of your household and social distancing is not required. 
Schools must follow state guidance and are encouraged to follow the county's guidance for schools. The state recommends re-opened schools test all staff once every two months, or 25% of staff every two weeks. With school re-opening, some teachers have mixed feelings about conducting in-person learning.
"I have been remote teaching from my classroom in the I-HUB all year and I know my lesson plan is much more effective when we are in the physical classroom," photography and multimedia design teacher Edmond Kwong said in an email. "I will be fully vaccinated by the time in-person classes start again, so I'm a little more confident about my own health risk, but [I do] not completely feel 100% safe for everyone. The people who are pushing to start in-person classes should do their part by vaccinating themselves and their children."
In addition, the school implemented more precautions over the past year to prepare for the eventual return, Stanwood said.
"In terms of safety and cleanliness, some things the school has done are to update the HVAC systems to make sure they're all functioning well and order all kinds of sanitation supplies and cleaning items, in addition to masks and some PPE," Stanwood said. "The administration is also communicating expectations related to movement on campus to students, such as through the Advisory video [on March 17], so everyone who returns should be aware of how to behave safely on campus."
Kwong said that while the school is ready theoretically, putting that theory to practice will be the challenge.
"How many students will forget to bring and wear masks?" Kwong said. "How many students will not pay attention to social distance [protocols]? How many students still neglect to wash their hands, like they did pre-COVID? Will students stay home when they have a cough, not knowing if it's from a cold or from COVID? In order for us to feel equipped for these changes, everybody has to do their part and be disciplined and honest with themselves."
According to Santa Clara County Public Health, in the orange tier, indoor dining, theaters, zoos and museums can now operate at 50% capacity and retail stores can remain open with modifications.
Along with these new mandates, California is implementing a new vaccine plan operated by Blue Shield, according to CalMatters. The purpose of this distribution is to streamline the confusing patchwork of vaccination efforts that has previously existed. As one of the state's largest health insurers, Blue Shield was hired by state officials to manage the allocation of vaccines to local health departments and other providers. 
The majority of staff members already received their vaccine, Kwong said. 
"Teaching in a hybrid format requires more preparation time and effort for the teacher, because we want a good in-class experience for the students while trying to maintain the engagement with the remote students, at the same time," Kwong said. "When I surveyed all my students, only 25% want to come back to campus in a hybrid model; the other 75% preferred not making any changes for the rest of the school year, because they got used to the routine and it works for them."
With the added safety procedures, many teachers are looking forward to resume in-person learning, Stanwood said.
"I think the environment of being in a classroom with other learners can really help support students who are finding it difficult to stay motivated online, or who are having trouble accessing their coursework," Stanwood said. "Remote learning seems to be working rather well for a significant amount of our students, but it's certainly not working for 100% of students, and since we don't want to see any students slip through the cracks, I really hope the ones who need some extra support will opt to return. I think they are the students for whom the hybrid model could have the biggest impact as we move toward the end of the semester."