FBLA's PwB project educates students through business partnerships
Through partnering with Screencast-O-Matic, students are able to gain first-hand experiences working with a real-life business
Launching in the beginning of the school year, FBLA's Partnership with Business project began its efforts to enhance student entrepreneurship by partnering with real-life businesses, partner with business chair, sophomore Daniel Lee said in a Zoom interview.
"We partnered with Screencast-O-Matic ahead of time," Lee said. "Then when the school year started, that's when we started our project meetings and developed that relationship with our member base, providing the opportunities for the members to grow as well."
Screencast-O-Matic is a website that provides users with video editing tools and other useful features such as screen recording, Lee said.
Through this partnership and related workshops, participants developed business concepts used for giving feedback, aiding Screencast-O-Matic with improving their website for users, committee member, freshmen Samhitha Varanasi said in a Zoom interview.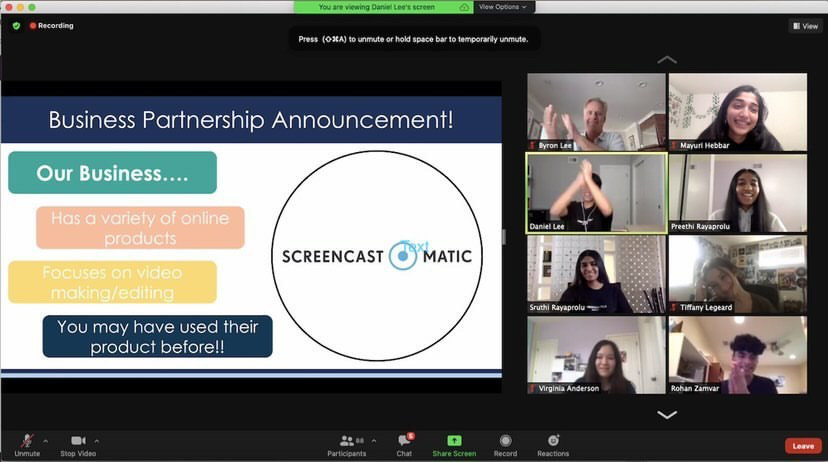 "By engaging with the project, participants get a lot of experience communicating with a real-life business," Varanasi said. "They can also gain knowledge about what kind of businesses are out there and learn a lot about marketing in general."
In addition to developing business concepts, participants have also gained experience in skills such as graphic design and public speaking, Varanasi said.
"As a member, I've learned a lot about graphic design, public speaking, communication, networking, and most importantly marketing," Varanasi said. "We designed multiple things like social media posts, blog posts and press releases for their website and social media."
Additionally, the project has done much outreach to make students aware of Screencast-O-Matic, Lee said. 
The project has also gained governmental recognition, showcasing its positive impact, partnership with business chair, sophomore Preethi Rayaprolu said in a Zoom Interview.
"Sunnyvale mayor Larry Klein and Sunnyvale community leader Nancy Smith wrote us official letters to showcase that our project has benefited the community," Rayaprolu said. 
As the project is now in its implementation phase, Rayaprolu said they plan to input a new project, the charity grant program. With their partnership with Screencast-O-Matic, the project will reach out to various organizations, schools and communities in need to provide them the company's resources such as Chromebooks or free access to their software, Rayaprolu said. 
"The community will benefit from Screencast-O-Matic's resources, while the website will gain brand awareness," Rayaprolu said."Helping the community through our charity program is something we're excited about doing".