Speech and debate finishes virtual year strong in final tournament
Five students from the speech and debate club competed in the Silicon Valley Urban Debate League (SVUDL) Spring Invitational on April 10 and 11. HHS was just one of the 76 institutions from across the country in attendance on Zoom.
The speech and debate club provided its members, like freshman Lindsey Steel who competed in the Lincoln Douglas Novice event, resources and mentorship to compete in their selected event. Steel placed in the Octos round.
Steel said debates often cover real life topics that are commonly seen in politics, and SVUDL's tournament topic was universal child care. This required hours of researching and outlining, she said.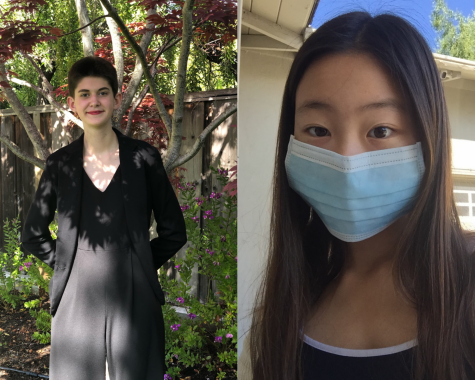 "The preparation is kind of time consuming," Steel said in a Zoom interview. "You have to research both sides of your topics and you also have to prepare responses to what you think your opponent will bring up." 
Like Steel, this was freshman Mahi Patel's first year of speech and debate, and she was able to advance to the semifinals in Original Oratory Novice, an event where contestants perform a 10-minute speech, which they prepare beforehand, on a topic of their choice. 
"[The hardest part of this event is] being able to choose a topic that you're really passionate about because if you're not able to deliver it with conviction, it just won't come across," Patel said in a Zoom interview. "The delivery is very important because it's hard to compare the content of the speech because everybody has something different. Hand gestures, eye contact and voice modulation [are all] important."
Patel spoke about the importance of compromise and submitted a video of her speech, "The Beginning of Something Beautiful," for the preliminary round. Patel scored high enough to move on to the semifinals where she performed her speech live in front of judges and ranked 11th place out of 44 other competitors.
The third debate event club members participated in was the Public Forum Novice, a competition where two speakers form a team to debate a topic with speeches and questioning against another team. Freshmen Zoe Del Vecchio and Sarah Yun made it to the Octos round, the elimination round with the top 16 debaters, in their third and final competition this year. Del Vecchio said the constant verbal trade off in this event was exciting, but it took a lot of note taking and research.
"In the first debate I've ever done in my entire life, we didn't have a lot of prep, so [I had] to ramble for the entire three minutes and it's really awkward," Del Vecchio said. "But then for our last debate, it was really nice because we did a lot of research and it was really useful in the debates." 
To prepare for their international monetary fund debate, Del Vecchio and her partner wrote about 30 pages of notes. 
"When you're prepping it doesn't really seem like there's an ultimate goal; you're just spending hours typing and editing and it gets really tiresome," Del Vecchio said. "[During the] debates [it feels like] my hard work is finally paying off."