Best shows to rewatch
On days I feel anxious about the flurry of tests I need to study for or the projects I need to complete, one way I ease my stress is by rewatching my favorite shows. Here is a list of my personal favorite series to rewatch:
'Gilmore Girls' (7 seasons)
Set in the close-knit town of Stars Hollow, Connecticut, "Gilmore Girls" follows the evolving mother-daughter relationship of Lorelai and Rory Gilmore. Rory attends a prestigious high school in order to fulfill her dream of going to Harvard with the help of Lorelai's wealthy parents. While Lorelai and Rory share a strong bond, Lorelai and her parents do not see eye-to-eye on her life choices. 
I started and finished this series in eighth grade and it has remained my top comfort show ever since. The eccentric town characters make you wish you lived in Stars Hollow. Now as a high schooler, I resonate with many of the experiences Rory does, such as imposter syndrome and feeling unprepared for the future. The pop culture references sprinkled in contribute to the show's charm and make it worth the watch.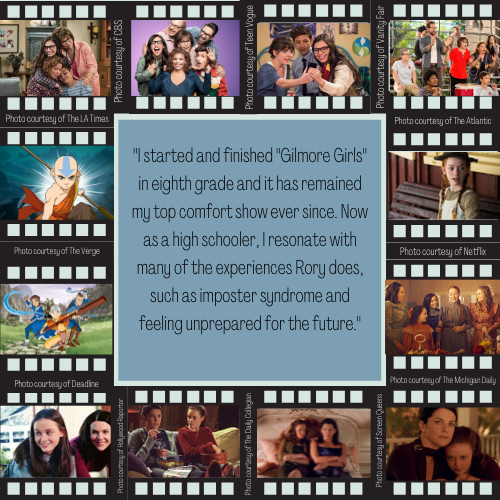 'Avatar: The Last Airbender' (3 seasons)
"Avatar: The Last Airbender" is a fantasy animated series that centers around the four nations: the Air Nomads, the Earth Kingdom, the Fire Nation and the Water Tribe. Benders from each nation are able to control a specific element, whereas the Avatar can control all four. The Fire Nation is on a mission to dominate the world and Aang, the Avatar, must master all of the elements to defeat the Fire Nation. 
Although the show is animated, it is definitely not only for children. The show discusses hard-hitting topics including oppression and war in a manner that people from across the age spectrum can watch. As someone who usually prefers live action productions, I found this show to be unlike any other animated or live-action show I have watched. All of the characters have such complex personalities that make the plot much more captivating. I especially admire Katara, one of the main characters in the show, who portrayed the struggles of what it is like to be a woman. Not to mention the adorable animal companions that add to the show's dynamic storyline. 
'One Day At a Time' (4 seasons)
Inspired by the 1975 drama, "One Day At a Time" is about former Army veteran and single mother Penelope raising her Cuban-American family. Throughout the show, the family navigates through whatever obstacles life hurls at them. 
From the first episode, I fell in love with this show instantly. "One Day At a Time" explores serious issues such as sexual harassment, LGBTQ rights and the importance of mental health. I have learned life-long lessons from this show, including how to act in situations of injustice and practicing self care. This series exposed me to real world problems and everyone can take away something important from watching this show. 
'Anne With an E' (3 seasons)
Adapted from the classic book, "Anne With an E" follows Anne, an orphan, on her journey of acceptance. Eventually, she is adopted by siblings Marilla and Mathew Cuthbert who own a farm on Prince Edward Island. Anne, who is outgoing and imaginative, initially finds it difficult to adjust to her new surroundings, but is able to warm everyone's hearts. 
I started this series right after it aired in 2017 and became obsessed ever since. To this day, I am heartbroken it was cancelled after three seasons. As Anne achieved various endeavors like pursuing a higher education and getting past family troubles, I laughed and cried with her which is what is so unique about this show. I felt as if I was right there with her experiencing these adventures myself.