Q&A: Athletic trainer Daniel Yusim gives advice on preventing athletic injuries
Daniel Yusim works as HHS's head athletic trainer, helping athletes and students alike with injury prevention and treatment. The Epitaph reporter Nitya Kashyap sat down with Yusim to discuss sports injuries and get his tips on how athletes can prevent or recover from them.
Nitya Kashyap
What do you do as the school's athletic trainer?
Daniel Yusim
The Athletic Trainer is responsible for injury recognition and prevention for all student-athletes. As the Athletic Trainer, I evaluate injuries and treat orthopedic injuries. Injuries can vary from soft-tissue injuries (sprains & strains) to severe injuries such as fractures, dislocations, concussion evaluations, etc. On a daily basis, I work with several student-athletes in the Athletic Training Room, treating them before practice or competitions. Within the Athletic Training Room, student-athletes have the ability to get taped to support certain body parts, perform individualized therapeutic rehab programs or athletes can come in to stretch and foam roll before activity. My main role is to be present at the majority of home contests so I can treat injuries right away and be available in case of a medical emergency. Athletic Trainers are all certified by the Board of Certification and have received post-graduate degrees and all five FUHSD schools have Certified Athletic Trainers on campus. 
NK
What is the number one cause of athletic injuries?
DY
I think in this year with COVID, the big issues are overuse and doing too much too soon. In the athletic training room, we're seeing a big trend of athletes ramping up too quickly, whether that be playing multiple sports in season three or track and field athletes are doing too much mileage on their legs, we're seeing lots of lower body injuries. [There have] not [been] too many upper body injuries, but we're seeing a lot of lower body injuries like hamstring injuries, muscle strains and knee injuries just because season three came so fast. I don't want to over-generalize, but I feel like a lot of athletes weren't really prepared for season three.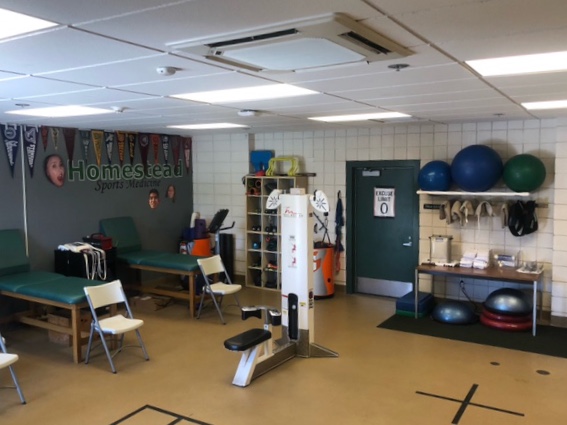 NK
Are you seeing an increase in athletic injuries this year, now that sports have restarted after a year of postponement, or has it been the same as normal years?
DY
I would say for the most part just the number of injuries that we're seeing is the same, but we are seeing a lot of people with the overuse injuries, just because they're doing so much so soon. A lot of people are obviously in quarantine or they're limited where they can go to a park or go to the gym. I know a lot of our students like to go to gyms like Crunch or work out in the weight room here at Homestead, and that's obviously not being used right now, so that's a contributing factor to not allowing student-athletes to build up the strength that they need to be ready for the season. 
NK
What would you say to athletes who are feeling physically-strained and may be at risk for overuse injuries?
DY
I would say the first thing they can do if they're concerned is they can definitely reach out to me. I'm in the training room five days a week which is open everyday at 2 p.m. But they also need to communicate with their coach. If they're not feeling 100%, they don't need to drive their legs into the ground and fall apart and be 'damaged goods,' as I like to call it, going into a match; they need to make sure they're taking care of their bodies. 
NK
For those athletes who haven't been able to go to gyms to exercise during the pandemic, do you have any recommendations as for how they can stay in shape at home to avoid injury?
DY
Myself and the other athletic trainers have been allowed to open up the training rooms to admit a certain limited capacity [of students]. So we actually are able to use some of our equipment and the athletic training rooms, so we are a good resource to work on getting exercise to either do on campus with us in the athletic training rooms. We can also give students exercise equipment that they can use at home, whether that's resistance bands or using bodyweight stuff or doing core exercises. We have software for sharing exercises with students via email that they can do at home, or when they have time, they can come in during the couple hours each day when the athletic training room is open for rehab. We can only have a certain number of people in the training room at one time, but it's definitely a good resource, since [students] can't use the weight room, where we can offer some strength training for student-athletes on campus.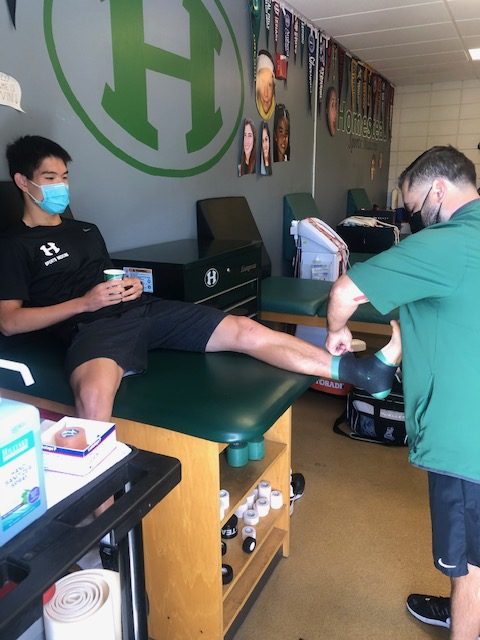 NK
Can any athlete who is interested in this reach out to you or is it only for injured athletes?
DY
Any student, not necessarily a student-athlete, who has a question about injury prevention, nutrition or just overall fitness is always more than welcome to swing by the athletic training room, or contact me via email. 
NK
What are some preventative measures athletes can take to reduce the number of times they injure themselves and the severity of their injuries?
DY
Some of the best preventative measures are nutrition and recovery. A lot of our student-athletes can improve on their daily nutritional intake. I believe young athletes need to be aware of what type and amount of calories they put into their bodies. Optimal nutrition can lead to better performance and quicker recovery from a hard workout. In addition, recovery (rest time) plays a huge role in injury prevention. I see way too often that student-athletes are not getting enough sleep throughout the week and they are simply too tired. Not getting the right amount of sleep can lead to several different stresses both physical and mental.
NK
Do you have any specific advice for athletes who are currently trying to recover from an injury?
DY
I think the biggest thing right now is listening to your body. Make sure to take time to let your body recover, relax, be a kid, enjoy life, don't feel like you need to bounce around from doing this to that. The biggest thing is listening to your body when your body's sore and tired, take the proper precautions [and] eat a good meal. Hydrate, try to avoid the big sugary drinks, practice general good health, and sleep is a huge thing. At a time when a lot of students are being overwhelmed with school, college applications and  AP testing, we need to make sure that student-athletes and students in general are making time for themselves to help with recovery. So my biggest point is: listen to your body if something doesn't feel right. I'm a good resource for them to reach out to if they want help getting pointed in the right direction as far as what they can do to work on recovery [and] flexibility stuff.