Socializing while suturing
HHS FPA hosts social for members to learn new suturing techniques.
After a long week of school, the Future Physicians of America club ended things off with a banana suturing lab for members. The goal was to provide members with a fun, collaborative event that taught them new suture techniques, co-president, senior Shamoli Ghosh said.
The social event gave members a better understanding about different suturing techniques, as well as a chance to get a feel of what doctors have to do in their day to day life, Ghosh said. 
"Members can't gain a lot of exposure just by talking about these activities," Ghosh said. "Doing the lab was a good way for members to get more involved in medicine and it's a fun way to socialize with everyone."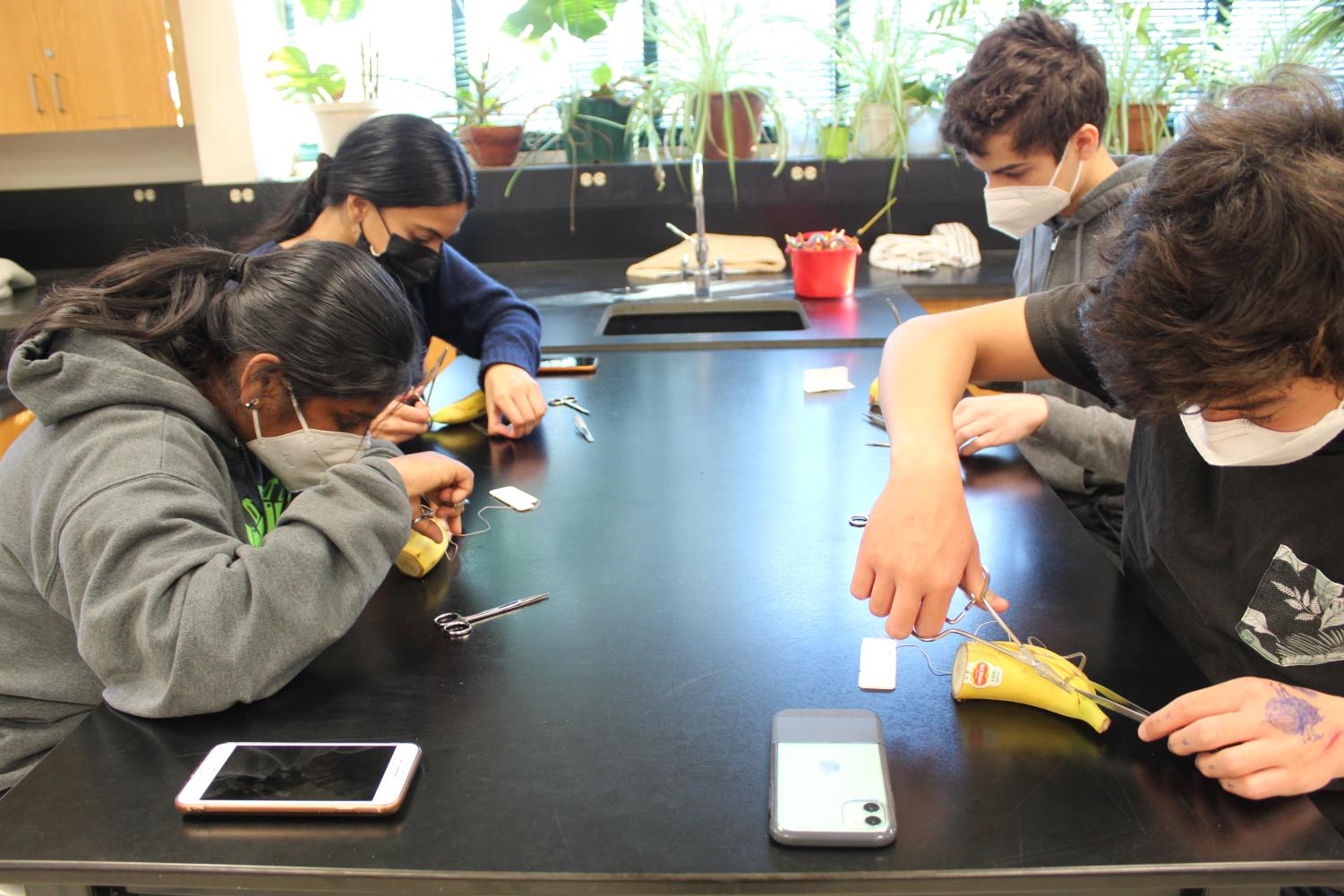 As a student planning on pursuing a career in the medical field, junior Natalie Esparza said this opportunity allowed her to get hands-on experience in areas she could expect when going into this field.  
"I really liked this experience because it allowed me to get a feel of what a surgeon would be doing on a regular basis," junior Natalia Esparza said. "My dream is to become a doctor and by participating in this social event I felt I was a step closer."
Through this event, members were taught how to do a type of suturing technique, known as a horizontal mattress suture, on bananas and were given background on how to do general suturing techniques, Ghosh said. 
Members had gone into this social with past experience from previous lessons and labs. Having this knowledge helped them to be successful during this social, secretary, senior Andrew Lopez said. 
"It was super interesting for me to see how a lot of the members who needed help last time, didn't need help this time," Lopez said. "The new format and the skills they gained definitely contributed to the success of the social.
The event was introduced through a presentation that taught members about what sutures are used for and how to tie them. Club officers also were able to go through a couple videos on how to do the suture lab step by step demonstrated by Lopez, Ghosh said.
"This suture lab was definitely a lot easier because we had ironed out all the kinks from how to do it last time, such as cleanup and setup," Ghosh said. "This time we were better prepared because we had the videos, which we could replay for members to watch."
As an officer who has a passion for learning and teaching medicine to others, Lopez said this social activity was a great way to spread knowledge about what the medical field looks like. 
"I became an officer because I wanted to share all the interesting aspects about medicine with others and convince people to join the field of medicine," Lopez said. "This social allowed me to do that because I was able to teach both my fellow officers and the members a new suturing technique."
FPA's goal as a club is dedicated to the education of high school students who wish to pursue careers in the medical field and this activity was largely able to accomplish that, Ghosh said.
"It's a great way to unwind after a long day of school by hanging out with our members and teaching them something new," Ghosh said.